Ashunera
Talk

0
3,754pages on
this wiki
Ashunera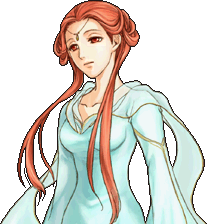 "The miasma of war is beginning to shroud the world. However, I shall not again be frightened. As one born of the hopes of man I shall protect this world."
—Ashunera to Lehran
Ashunera (アスタテューヌ, Asutatyūnu?) is the creator goddess who created life on Tellius. The Zunanma, the ancestors of the Beorc and the Laguz, loved her; they called her the Goddess of Dawn in reference to her dawn-colored hair. When the Zunanma's descendants, the beorc and the laguz, went to war, Ashunera tried to stop them; but lost control of her emotions and accidentally flooded all but one of the continents in the world. To prevent another flood from occurring, Ashunera discarded her emotions, which manifested themselves as Yune, the Goddess of Chaos and Transformation, and became Ashera, the Goddess of Order and Restriction. 1200 years after the events of Radiant Dawn, she finally returns to Tellius and watches over it as the creator of the world.
If Lehran is kept alive, he and Ashunera sing an alternate credit song.
If Lehran is not alive there is no indication in the epilogue the Ashunera was formed from Yune and Ashera.