Astram
Talk

0
3,752pages on
this wiki
Astram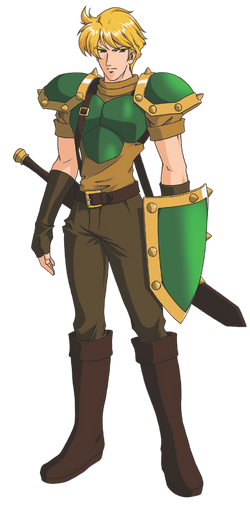 "While I have decided to lend you my sword, my allegiance lies with Princess Nyna- not you, my lord. I will follow your orders, but should I learn you have been false to her, or that you are manipulating her... Heads will roll."
—Astram to Marth, Fire Emblem: Shadow Dragon
Astram (アストリア Asutoria, Astria in the Japanese version) is a playable character in Fire Emblem: Ankoku Ryū to Hikari no Tsurugi, Fire Emblem: Mystery of the Emblem, and their remakes. He is a mercenary of Akaneia and the lover of Midia. He was forced to join the Dolunian forces under his ruler's orders. However, Midia managed to convince him to join the Akaneian League, on Marth's side.
On Hardin's ascension, Astram was promoted and rewarded with the sword Mercurius, one of the Three Regalia of Akaneia. Despite Hardin's fall to madness, Astram continued to serve him, on the basis of serving Princess Nyna and Akaneia. He somehow resented Jeorge after he betrays Akaneia, but Jeorge can convince him to abandon Akaneia. Astram complies, but swore to make Jeorge pay if he turns out to be lying, though it turns out that he was telling the truth.
Personality
Edit
Astram is fiercely loyal to Akaneia. He is quick to threaten characters he suspects for treason, and often without provocation. If the player iniates a conversation between him and Marth when he joins in Shadow Dragon, Astram says "heads will roll" if Marth ever planned to use or betray Nyna.
Character data
Edit
Recruitment
Edit
Base stats
Edit
Growth rates
Edit
Recruitment
Edit
Book 1
Book 2
Base stats
Edit
Book 1
Book 2
Growth rates
Edit
Support bonus
Edit
Supports

| Character | Bonus |
| --- | --- |
| Midia | 10% |