Balmer
Talk

2
3,754pages on
this wiki
Balmer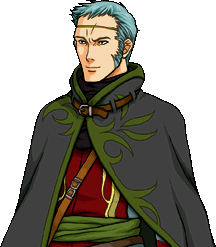 "Hmph. You wretches... You're not worthy of General Petrine's attention. I will roast your bones and present them to her as a trophy!"
—Balmer
Balmer is a Sage of Daein from Fire Emblem: Path of Radiance. He has deep respect for General Petrine, his superior. He is the boss of Chapter 7 and drops a Mage Band if it is not the first game playthrough.
*Dropped when defeated (this item only on second playthrough onwards.)
Boss Strategy
Edit
As a promoted magic user, Balmer might seem like a volatile unit, but he is not that difficult. Have Rhys use Ward on either Ike or Mia to boost their Resistance, then have either swordsman attack Balmer with an Iron Sword (so they don't lose Attack Speed), which should bring him down in a few turns. Use Ward again if you need to replenish Ike or Mia's resistance rating.
Battle Conversation
Edit
Ike: Whoa! So you're a mage, are you?
Balmer: I am, vermin, and I will see you burn to cinders!
Death Quote
Edit
"Urgg... Ahh..."
—Death Quote