Berserk Staff
Talk

6
3,754pages on
this wiki
Berserk Staff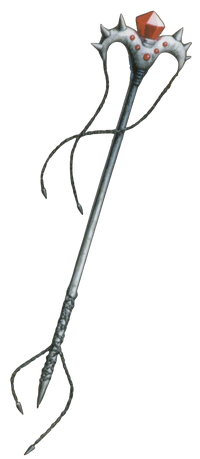 The Berserk Staff (バサークの杖 Basāku no Tsue) is a long-range Staff that is used to make hostile units go berserk, making them uncontrollable and attack any unit within range, be it friend or foe, at the end of its faction's turn. Thankfully, they are inaccurate, but are usually enemy-only staves.
This particular staff is arguably one of the most annoying staves in the series, due to the fact that it will cause your own units to attack you. Because the affected unit cannot trade or be rescued, getting hit by this staff nearly guarantees that the unit will either kill multiple allies or rush into a crowd of enemies.
However, it can also be one of the best staffs, as an enemy unit powerful enough but with low resistance can attack enemy units, softening them up for your units before going in. For example, if you have a Berserk Staff, and use it on a Draco Zombie, it can be very devastating for enemies (Wretched Air, of course, dishes out moderately heavy damage on units). It can also be used on bosses or core enemy units to destroy other units nearby.
The Restore Staff can be used to counter its effect.
Range: 1-10
Rank: B
Worth: 30,000
Uses: 1
Experience: 100
Effects: Berserks an enemy, only if the caster's Magic is higher than enemy's Resistance
Location(s): Chapter 9 [Sharlow (Wait next to Hannibal)]
Rank: A
Worth: 2,000
Range: All
Weight: 10
Uses: 3
Experience: 40
Effects: Berserks an enemy, only if the caster's Magic is higher than enemy's. The staff does not work on enemies standing on gates and thrones.
Location(s): Chapters 16B (Enemy Rinecok), 22 (Enemy Cowen), 24 (Enemy Dark Mage), 25x (Enemy Dark Mage), Final (Enemy Elf)
Rank: B
Range: 1-(User's Mag/2 + 5)
Uses: 3
Worth: 1,800
Experience: 40
Effects: Berserks an enemy so they attack both friend and foe
Location(s): Chapter 16 (Chest)
Rank: B
Range: 1-(User's Magic/2 + 5)
Uses: 3
Worth: 1,800
Weapon Experience: 5
Experience: 40
Effects: Berserks an enemy so they attack both friend and foe
Location(s): Chapters 22x/23x (Right chest)
Rank: B
Range: 1-(User's Magic/2 + 5)
Uses: 3
Weapon Experience: 5
Experience: 40
Worth: 1,800
Effects: If successful, may cause an enemy to be berserked, causing them to target random characters (including enemies)
Rank: B
Weight: 8
Hit: 60%
Range: 1-(User's Magic/2)
Uses: 3
Worth: 1,800
Weapon Experience: 5
Experience: 40
Effects: Induces the Berserk effect on an enemy (cannot be obtained without codes)