Bow Paladin
Talk

0
3,754pages on
this wiki
Bow Paladin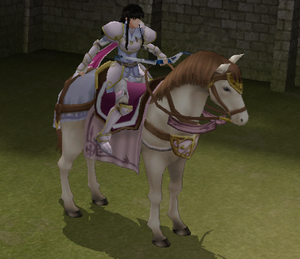 The promotions of Bow Knight, Bow Paladins (known as Arrow Knights in the Japanese version) are more mobile than Archers, Snipers and Marksmen. They may also retreat a few spaces after ending their turns, making them slightly more valuable. Unlike the Path of Radiance Paladins, the Bow Paladins in Radiant Dawn still lack a secondary close-range weapon. In Radiant Dawn, Bow Paladins promote into Silver Knights, gaining usage in lances. Astrid is the only character who starts out in this particular class.
In Path of Radiance:
Edit
The class is actually grouped as the Paladin in this game, but only Astrid will be counted as the "bow paladin", since she is the only one to have originally used the bow out of the six possible paladins.
Max Stats
Edit
HP: 60
Str: 25
Mag: 20
Skl: 26
Spd: 27
Luk: 40
Def: 27
Res: 26

Weapons & Skill
Edit
Notable Paladins (Bow)
Edit
No one starts as this class.
In Radiant Dawn:
Edit
The Bow Paladin is a second-tier class. It only has the ability to wield bows, but can promote into a Silver Knight upon reaching Level 21 or using a Master Crown when the unit is Level 10 or over; once promoted, the character can then use lances. Astrid is the only person in this class.
Max Stats
Edit
HP: 40
Str: 23
Mag: 15
Skl: 27
Spd: 26
Luk: 30
Def: 23
Res: 20
*Since RD has tries to balance classes by total stat points, these are Astrid's Tier 2 caps in RD*
Weapons & Skill
Edit
Promotion Gains
Edit
HP: +4
Str: +3
Mag: +4
Skl: +2
Spd: +2
Def: +3
Res: +4

Notable Bow Paladins
Edit