Caladbolg
Talk

3
3,754pages on
this wiki
Caladbolg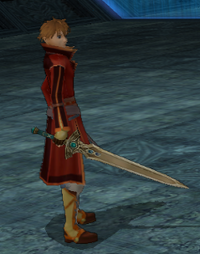 Edward wielding Caladbolg.
Caladbolg is a sword in Fire Emblem: Radiant Dawn that is exclusive to Edward. Caladbolg is a very powerful sword, being stronger than a Steel Blade and adding 8 points to Edward's Luck, while also being much lighter and more accurate. Caladbolg is a national treasure of Daein, along with Tarvos and Lughnasadh. Caladbolg was given to Edward by King Pelleas. Along with its siblings, it is not present in the Japanese version.
*Preference = Edward
Etymology
Edit
Caladbolg is a legendary sword in Irish and Welsh mythology. King Arthur's Excalibur is thought to be based on it.