Clash in Medon
Talk

0
3,752pages on
this wiki
Clash in Medon

"Grust would harry the League no more. Marth led his forces on to Medon. However, Medon's Dragoons were ready to waylay them at the border; countless reinforcements hovered within the fortresses, waiting to strike... Would Marth be able to lead the League safely through the gauntlet?"
—Opening Narration
Clash in Medon (Clash in Macedon in the North American version) is Chapter 21 of Fire Emblem: Shadow Dragon.
This chapter was cut from Fire Emblem: Mystery of the Emblem. It is filled with powerful enemies. At first 3 generals and a sniper, and right near the boss, 5 paladins and 2 mages.
Secret Shop
Edit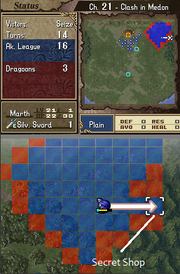 There is a secret shop located in the mountain terrain on the far right side. In the mountains is a lone "plain" terrain tile which leads you to the secret shop if the character is holding a VIP card (Member Card) in their inventory. It is recommended to make the character with the VIP card also hold the Silver Card so the prices of the items sold in the secret shop are halfed to 1250g, so it will be easier to buy all of them and making your characters stronger.
Secret shop items:
Enemy Reinforcements
Edit