Ad blocker interference detected!
Wikia is a free-to-use site that makes money from advertising. We have a modified experience for viewers using ad blockers

Wikia is not accessible if you've made further modifications. Remove the custom ad blocker rule(s) and the page will load as expected.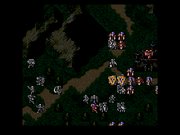 Combination bonus
(also known as
Lover bonus
and
Sibling bonus
) is a +20% bonus to
Critical rate
when a character fights with a lover or sibling directly adjacent to them. It only appears in
Fire Emblem: Genealogy of the Holy War
, although similar critical rate boosts exist in other games. One such example is the "bond" bonus certain units have with one another in
Fire Emblem: Radiant Dawn
.