Corrosion
Talk

0
3,752pages on
this wiki
Corrosion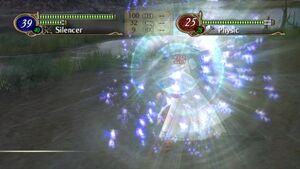 Rolf activating Corrosion in battle.
Corrosion (武器破壊 Buki hakai, Buki meaning weapon, and Hakai meaning Destruction) is a skill from Fire Emblem: Path of Radiance and Fire Emblem: Radiant Dawn. This skill allows its user to reduce the enemy's weapon durability based on the user's level, and can only be used by Beorc characters.
In Fire Emblem: Radiant Dawn, this skill can be obtained by viewing the Info Conversation titled Haar in Chapter 3-5.
| Icon | Name | Activation | Capacity | Effect(s) | Notes |
| --- | --- | --- | --- | --- | --- |
| | Corrode | (Skill)% | 10 | Reduces enemy's weapon durability by [User's Level (+20 if promoted) / 4 (rounded up)] | Base skill of Bastian; Can be assigned with the Corrosion Scroll. |
| Icon | Name | Activation | Capacity | Effect(s) | Notes |
| --- | --- | --- | --- | --- | --- |
| | Corrosion | (Skill/2)% | 15 | Reduces enemy's weapon durability by the user's Level. | Base skill of Bastian; Can be assigned with the Corrosion Scroll. |