Darros
Talk

1
3,752pages on
this wiki
This Character Article needs Stats adding!
This character article is missing stats from one or more games. Remove this template when they have been added.
The reason given was: Need Ankoku Ryu data.
Darros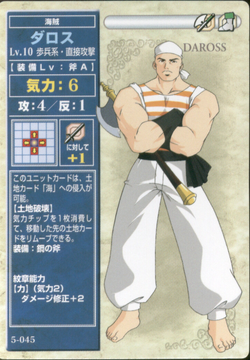 Darros as he appears in the TCG.
"Ahoy, Prince Marth, I be Darros, a simple man o' the sea. I've had me fill o' the piratin' life, and now I be lookin' t'start anew. What say ye? Make me yer matey, and I swear t'pull me load."
—Darros in Shadow Dragon
Darros (ダロス, Daros, Daross in the Japanese version) is a playable character in Fire Emblem: Ankoku Ryu to Hikari no Tsurugi, Fire Emblem: Shadow Dragon, and Fire Emblem: Shin Monshō no Nazo ~Hikari to Kage no Eiyū~. He is a memebr of the Galder Pirates, tired of his job, who was persuaded by Marth to join his entourage. He was omitted in Mystery of the Emblem, but returned in Shadow Dragon.
To recruit, command Marth to talk to him. This can also be vice-versa; if Marth is within Darros's range, he will automatically talk to Marth, also, he does not attack any friendly units, thus (if he is not needed) a useful tactic would be to ignore him and finish up between most and all of chapter 2, having Marth attend to other business. Darros would follow Marth without enemy units attacking him, staying safe until he caught up with Marth. However, due to Darros' high attack, he is usually valuable for fighting the enemy units in the chapter; he is not a fragile unit, though on harder modes he is vulnerable to getting doubled due to his Steel Axe weighing him down by 4 AS.
Base Stats
Edit
Growth Rates
Edit
Support Relationships
Edit
Supports
Supported by
Overall, Darros is a unit that should not be overlooked. His sheer strength combined with the mighty power of axes makes him one of the strongest units in the game. He has similar stat growths in HP and strength to Dart, and can easily be a very powerful unit. However, beware his skill and speed: while he starts out with good speed, his 10% growth almost ensures it will not raise much higher, while his low base skill is not helped by the low 20%. However, a Secret Book and Speedwing can help offset those low stats and allow Darros to hit more frequently and have more Attack Speed.
Base Stats
Edit
Growth Rates
Edit
Support Relationships
Edit
Supports
Supported by
Death Quotes
Edit
"Arr... So this be the end..."
—Death quote in Shadow Dragon