Emil
Talk

0
3,752pages on
this wiki
Emil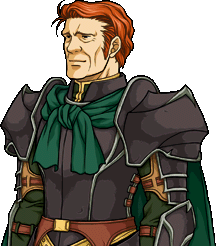 "Oooh... My life ends here... But...though you flee to Gallia...you will...fall to Daein..."
—Emil's death quote
Emil is a Halberdier and the boss to Chapter 6 of Path of Radiance. He is a Daein soldier under General Petrine. He is equipped with a Short Spear, which the character receives after defeating him. He is also the first promoted unit that the player must face in battle, so the lower level characters can get a lot of experience from him.
Character Data
Edit
Base Stats
Edit
Easy Mode
Edit
* Dropped upon defeat.
Normal Mode
Edit
* Dropped upon defeat.
Battle Conversation
Edit
Default
Emil: Try me! I'll not let even a single soldier get past!
Vs Ike
Emil: I will not allow you to take one step more!
Ike: Then I've no choice but to cut you down and walk over you!