Enteh
Talk

0
3,753pages on
this wiki
Enteh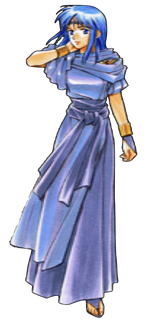 "No... I will go with you. I've decided never to flee again. I cannot tolerate people being hurt for my sake any more!"
—Enteh, in a conversation with Maruju
Enteh (エンテ Ente) is a playable character from TearRing Saga: Utna Heroes Saga. She is the Princess of Reeve and is the Shaman of Water. Her real name is Maeve. She is sent as a healer to the village of Taurus in Verge and is being pursued by Gwenchaos for being one of the four shamans required to resurrect Gerxel and unleash a terrible evil upon the continent.
Enteh is one of the four Shamans in the game, meaning that she is of significant importance and must be protected from any harm at all costs. If she is defeated, this will result in an instant Game Over (similar to that of the rule of thumb for Lords). Furthermore, the Ring of Reeve allows her to transform into the Dragon of Water, Muse (ミユース Miyūsu).
Character Information
Edit
Recruitment
Edit
Automatically from the start of Map 2.
Base Stats
Edit
Growth Rates
Edit