Equus
Talk

0
3,785pages on
this wiki
Equus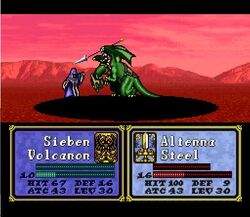 Equus killing Altena in Genealogy of the Holy War.
Equus (ズイーベン Zuīben, Sieben in the Japanese version) is one of the twelve Deadlords, and appears in Fire Emblem: Genealogy of the Holy War and Fire Emblem: Awakening.
In Fire Emblem: Genealogy of the Holy War, little is mentioned about the Deadlords, but they are all fought in the Final Chapter near Barhara and eventually defeated, including Equus himself. Equus is not fought in Fire Emblem: Thracia 776.
Equus is the easiest to defeat out of all the Deadlords, as he utilizes the worst magic type in the game, alongside having a relatively low Attack Speed, a result of him wielding the cumbersome Bolganone tome. He should be defeated by practically any character with ease.
*Drops when defeated
**Gradivus or Gungnir or Gáe Bolg or Luna (Lance)
Etymology
Edit
Sieben, Equus' Japanese name, is a German number, which, in this case, means 'seven'.
In the English version, the Deadlords' names are based off the Latin names of the animals of the Chinese Zodiac. "Equus" means "horse", the seventh animal of the Chinese Zodiac.