Escape!
Talk

0
3,754pages on
this wiki
This Article needs a quote(s)!
This article is in need of a quote(s). Remove this template when a quote(s) have been added. If you are unsure whether or not a quote is appropriate, please discuss it on the Talk Page.

Escape!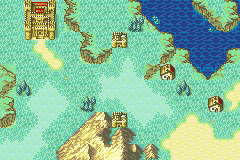 Escape! is Chapter 1 in Fire Emblem: The Sacred Stones.
Reinforcements
Edit
Once you pass the halfway point, 2 Fighters and a Soldier will appear from the south east (at the end of the enemy's turn).
See: Escape!/Script
Go up slowly.
At the start of Turn 2, Franz and Gilliam will appear. (If tutorial is on, this teaches you to trade and use items.)
Move left, clear all enemies on the way/nearby.
When you cross the halfway point more enemies will appear. You can kill them to gain more EXP.
Weaken the boss, but make sure to let Eirika finish him.