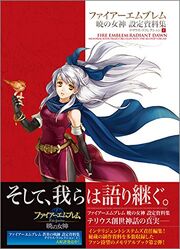 Fire Emblem: Radiant Dawn Memorial Book Tellius Recollection: The Second Volume (ファイアーエムブレム 暁の女神 設定資料集 : テリウス・リコレクション) is a design document book for Fire Emblem: Radiant Dawn.
Basic Info
Edit
Release Date: November 25, 2016
Price: 3,456 Yen (tax included)
Publisher: Tokuma (Nov. 25, 2016)
Language: Japanese
External Links
Edit
Kantopia - product info translation.
---
This article is a stub. You can help Fire Emblem Wikia by expanding it.
---
Ad blocker interference detected!
Wikia is a free-to-use site that makes money from advertising. We have a modified experience for viewers using ad blockers

Wikia is not accessible if you've made further modifications. Remove the custom ad blocker rule(s) and the page will load as expected.