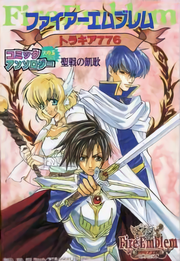 Fire Emblem: Thracia 776 manga is one of the three manga adaptations of Fire Emblem: Thracia 776.
Title: Fire Emblem: Thracia 776 - Comic Anthology - Seisen no Gaika
Author: various
Publisher: Hi no Tama Game Comic Series (Koubunsha)
Release: 2000 (Japan)
Pages: 182 (8 color)
Ad blocker interference detected!
Wikia is a free-to-use site that makes money from advertising. We have a modified experience for viewers using ad blockers

Wikia is not accessible if you've made further modifications. Remove the custom ad blocker rule(s) and the page will load as expected.