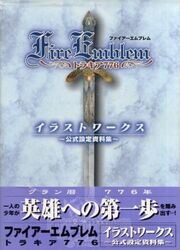 Fire Emblem: Thracia 776 Illustrated Works (ファイアーエムブレム トラキア776 イラストワークス) is a fan book providing information and artworks of characters from Fire Emblem: Thracia 776.
Basic Info
Edit
Release Date: April 2000
Publisher: Kadokawa Shoten
Language: Japanese
Price: 3,996 Yen (tax included)
---
This article is a stub. You can help Fire Emblem Wikia by expanding it.
---
Ad blocker interference detected!
Wikia is a free-to-use site that makes money from advertising. We have a modified experience for viewers using ad blockers

Wikia is not accessible if you've made further modifications. Remove the custom ad blocker rule(s) and the page will load as expected.