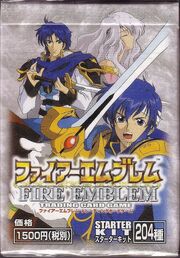 Fire Emblem: Trading Card Game is a trading card game that contains a collection of characters, items, skills, and location cards from Fire Emblem: Genealogy of the Holy War, Fire Emblem: Thracia 776, Fire Emblem: Ankoku Ryū to Hikari no Tsurugi, and Fire Emblem: Mystery of the Emblem. It was released in August 2001 by NTT Publishing Co., Ltd. and it discontinued around 2006.
It contains seven expansions in the Trading Card Game set, the first three expansions contain content from Genealogy of the Holy War, with the first expansion containing artwork from the Fire Emblem: Treasure book. The fourth expansion features characters from Thracia 776. The Jugdral Anthology is the fifth expansion that features characters from both games of the Jugdral Series. The artwork was done by Yamada Akihiro, Fujiwara Kamui, and Kozakiyūsuke. The final two expansions contained the characters from Ankoku Ryu to Hikari no Tsurugi and Mystery of the Emblem.
See main category: Category:TCG Images
External links
Edit
---
This article is a stub. You can help Fire Emblem Wikia by expanding it.
---
Downloadable Episodes (Exclusive to Shin Monshō no Nazo)
First Generation Characters
Second Generation Characters