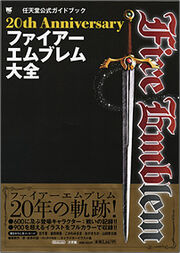 Fire Emblem 20th Anniversary Encyclopedia (任天堂公式ガイドブック 20th Anniversary ファイアーエムブレム大全) is a fan book that covers the entire series from the first installment, Fire Emblem: Shadow Dragon and the Blade of Light to Fire Emblem: New Mystery of the Emblem (although not much is covered on New Mystery of the Emblem, it does have some exclusive art).
Basic Info
Edit
The book features more than 900 artworks, roughly 600 characters in over 240 pages:
Contributing illustrators
Edit
External links
Edit
Ad blocker interference detected!
Wikia is a free-to-use site that makes money from advertising. We have a modified experience for viewers using ad blockers

Wikia is not accessible if you've made further modifications. Remove the custom ad blocker rule(s) and the page will load as expected.