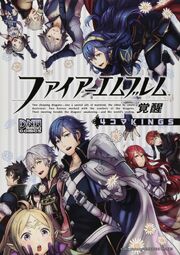 Fire Emblem Awakening 4koma KINGS (ファイアーエムブレム 覚醒 4コマKINGS) is a manga adaptation of Fire Emblem Awakening.
Basic info
Edit
Publisher: Ichijinsha
Release Date: January 24, 2015
Language: Japanese
Price: 740 Yen
Content info
Edit
Pages: 113
Cover: Maiponpon / INTELLIGENT SYSTEMS
Illustration: Shirataki Naco / Hanokage
Manga: Hayato Aoba / Itagaki Jaco / Katsura Kazuho / Rumi Kawashima / Kanzaki Ryuko / Sanada Kotobukian / Suzuhana / Tsukiyama Ryuji / Toja Minato / Satoshi / Eiitoguchi emergence / Hayate selector / HimeNozomi / Morita Natuna / Yukiya Tomoki / Lirio
External links
Edit
Ad blocker interference detected!
Wikia is a free-to-use site that makes money from advertising. We have a modified experience for viewers using ad blockers

Wikia is not accessible if you've made further modifications. Remove the custom ad blocker rule(s) and the page will load as expected.