Fire Emblem Gaiden (manga)
Talk

0
3,956pages on
this wiki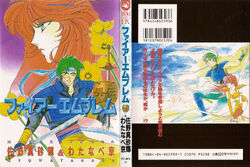 Fire Emblem Gaiden manga is the manga adaptation of Fire Emblem Gaiden that takes place after Alm's army defeated Dozah's men, retaking the castle in Chapter 1: To Zofia! and meeting Celica at Zofia Castle. It has a total of 4 chapters in only one volume.
Manga Information
Edit
Author: Masaki Sano & Kyo Watanabe
Illustrator: Masaki Sano & Kyo Watanabe
Publisher: Kadokawa Shoten
Release: March 1, 1993 (Japan)
Volumes (ISBN): Vol. 1: 4-04-852393-7
Differences from the Game
Edit
Cliff & Deen got killed in the Manga version, since Dozah stabbed Cliff in the Back after Matilda was rescued & Deen was killed by Geyse inside of Geyse's Fortress instead of Celica's army in the North Desert in the manga that Geyse was going to attack Sonia and Deen saved her life.
Rudolf doesn't have facial hair in the Manga version, but he has facial hair in the Game.