Fire Emblem Memorial Book Archanea Chronicle
Talk

0
Share
Ad blocker interference detected!
Wikia is a free-to-use site that makes money from advertising. We have a modified experience for viewers using ad blockers

Wikia is not accessible if you've made further modifications. Remove the custom ad blocker rule(s) and the page will load as expected.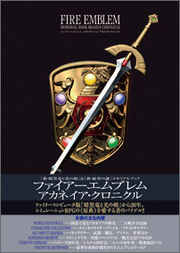 Fire Emblem Memorial Book Archanea Chronicle (ファイアーエムブレム メモリアルブック アカネイア・クロニクル) is a fan book that focuses on the remakes, Fire Emblem: Shadow Dragon and Fire Emblem: Shin Monshō no Nazo ~Hikari to Kage no Eiyū~.
Basic Info
Edit
Publisher: Kadokawa Group Publishing (publisher: ASCII Media Works)
Release: December 17, 2010 (Japan)
Price: 3,150 yen (tax included)
Type size: B5 size luxury binding 256P
World and Historica - Information on the history and battles of Archanea. Includes diagrams depicting the factions that hold power, as well as the military might after the War of Heroes.
Character Collection - Details on all the playable and important enemy characters. Besides the Trading Card Game artwork being displayed in large size, while the main illustrations from FE1, FE3, BS Fire Emblem, FE11 and FE12 are also included.
All About Archanea - Glossary of characters, classes, items and etc.
Scenario Archive
Tribute Emblem
Premium Artworks
Contributing illustrators
Edit
External links
Edit