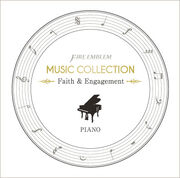 Fire Emblem Music Collection: Piano ~Faith & Engagement is a CD containing tracks from throughout the series, composed and performed by female pianist Keiko. The CD costs 3,200 Yen (including tax) and is released on February 22, 2017.
List of tracks
Edit
Ad blocker interference detected!
Wikia is a free-to-use site that makes money from advertising. We have a modified experience for viewers using ad blockers

Wikia is not accessible if you've made further modifications. Remove the custom ad blocker rule(s) and the page will load as expected.