| | | |
| --- | --- | --- |
| | Main series | |
| | | |
| --- | --- | --- |
| | Featured Article | |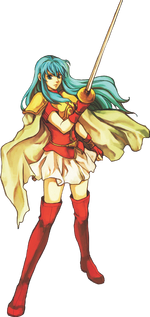 Eirika (エイリーク Eirīku, Eirik the Japanese version) is one of the main characters of Fire Emblem: The Sacred Stones, the other being her brother Ephraim. When Renais is attacked by Grado, King Fado makes Eirika leave the castle with his trusted knight, Seth. When they leave the castle, they are met by Valter, a general of Grado. In order to protect Eirika, Seth attacks Valter, but gets hurt in the process. As the battle begins, Seth grabs Eirika and heads on to Frelia.
As Seth and Eirika are about to cross the Renais - Frelia border, they are attacked by a small troop of Grado soldiers led by O'Neil. Seth gives Eirika a Rapier, and together, they defeat the fighters and head on to Frelia. However, once they are right outside of a castle on the Renais - Frelia border, they realize that it is being attacked by Grado soldiers led by Breguet, and that Eirika's friend and the princess of Frelia, Tana is being held hostage. They defeat the soldiers with the help of Franz, a Cavalier of Renais, and Gilliam, a Knight of Frelia.
After Tana is saved, Eirika and the rest of the group reach the Frelian castle, where Eirika learns that her father has been killed. Shocked by the news, Eirika vows to find her brother and keep him safe. Unable to spare troops, the King orders Gilliam, Moulder, Vanessa, and a Supply Convoy to travel with her on her journey.
| | | |
| --- | --- | --- |
| | Get involved | |
The Fire Emblem Wiki is a community that aims to create the best resource for the Fire Emblem series, a series of video games produced by Nintendo/Intelligent Systems.
All pages can be edited and you are welcome to join us and contribute to this wiki. Everyone is free to create a new page or edit an existing one. You can help out by looking at our wanted pages. Be sure to read over our Policies page.
This Wikia now has 4,469 articles and 253,290 page edits, we would like to extend our thanks to all our contributors.
| | | |
| --- | --- | --- |
| | Poll | |
Which objective type of a stage do you enjoy playing?
Previous poll
Which game of the main series that was officially released in English is your favorite?
Fire Emblem: Rekka no Ken: 374 — 17.05%
Fire Emblem: The Sacred Stones: 235 — 10.72%
Fire Emblem: Path of Radiance: 188 — 8.57%
Fire Emblem: Radiant Dawn: 217 — 9.9%
Fire Emblem: Shadow Dragon: 57 — 2.6%
Fire Emblem Awakening: 1122 — 51.16%
The poll was created at 09:05 on March 22, 2015 and 2193 people voted.
| | | |
| --- | --- | --- |
| | Categories | |
| | | |
| --- | --- | --- |
| | Related Titles | |
TearRing Saga: Utna Heroes Saga
TearRing Saga: Berwick Saga
Super Smash Bros. for Nintendo 3DS and Wii U
| | | |
| --- | --- | --- |
| | Spin-offs and Cancelled | |
The Fire Emblem series is copyrighted by Nintendo. The Fire Emblem Wiki is in no way affiliated with Nintendo.