Home
Talk

146
3,983pages on
this wiki
Get Involved!
The Fire Emblem Wiki is a community that aims to create the best resource for the Fire Emblem series, a series of video games produced by Nintendo/Intelligent Systems.
All pages can be edited and you are welcome to join us and contribute to this wiki. Everyone is free to create a new page or edit an existing one. You can help out by looking at our wanted pages. Be sure to read over our Policies page.
This Wikia now has 3,983 articles and 233,527 page edits, we would like to extend our thanks to all our contributors.
Featured Article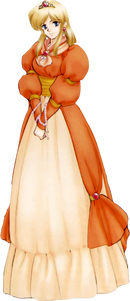 Raquesis (ラケシス Rakeshisu) is a character from Fire Emblem: Genealogy of the Holy War. She is the princess of Nodion and the younger sister of Eldigan, whom she holds in deep reverence. Raquesis is sarcastic, sharp-tongued, strong-willed and has a strong sense of pride, preferring to make her own choices, instead of having others decide for her. If paired up, Rackesis's children are Nanna and Delmud.
Raquesis is known to have survived the Battle of Belhalla, and brings Nanna to Leonster to live with Finn, while she sends Delmud to live with the other children in Isaach. Raquesis becomes a surrogate mother of sorts for Leif during this time.
Poll

Which game of the main series that was officially released in English is your favorite?

 

Previous poll
Which Awakening DLC artist would you want doing the art for the next Fire Emblem game?

Shirow Minwa (Lyn): 2566 — 35.63%

Koutarou Yamada (Ephraim): 1105 — 15.35%

Kimihiko Fujisaka (Roy): 994 — 13.8%

Eiji Kaneda (Ike): 541 — 7.51%

Senri Kita (Marth): 526 — 7.3%

Daisuke Izuka (Eirika): 277 — 3.85%

Arco Wada (Micaiah): 272 — 3.78%

Masatsugu Saitou (Celica): 229 — 3.18%

Sachiko Wada (Leif): 210 — 2.92%

HACCAN (Alm): 133 — 1.85%

Douji Shiki (Elincia): 75 — 1.04%

Rika Suzuki (Seliph): 72 — 1%

Shinnosuke Hino (Catria): 68 — 0.94%

Kinu Nishimura (Est): 66 — 0.92%

Homare (Palla): 66 — 0.92%

The poll was created at 03:41 on 11 August 2013 and 7201 people voted.



The Fire Emblem series is copyrighted by Nintendo. The Fire Emblem Wiki is in no way affiliated with Nintendo.