Featured Article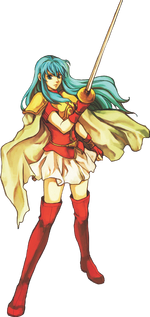 Eirika (エイリーク Eirīku, Eirik the Japanese version) is one of the main characters of Fire Emblem: The Sacred Stones, the other being her brother Ephraim. When Renais is attacked by Grado, King Fado makes Eirika leave the castle with his trusted knight, Seth. When they leave the castle, they are met by Valter, a general of Grado. In order to protect Eirika, Seth attacks Valter, but gets hurt in the process. As the battle begins, Seth grabs Eirika and heads on to Frelia.
As Seth and Eirika are about to cross the Renais - Frelia border, they are attacked by a small troop of Grado soldiers led by O'Neil. Seth gives Eirika a Rapier, and together, they defeat the fighters and head on to Frelia. However, once they are right outside of a castle on the Renais - Frelia border, they realize that it is being attacked by Grado soldiers led by Breguet, and that Eirika's friend and the princess of Frelia, Tana is being held hostage. They defeat the soldiers with the help of Franz, a Cavalier of Renais, and Gilliam, a Knight of Frelia.
After Tana is saved, Eirika and the rest of the group reach the Frelian castle, where Eirika learns that her father has been killed. Shocked by the news, Eirika vows to find her brother and keep him safe. Unable to spare troops, the King orders Gilliam, Moulder, Vanessa, and a Supply Convoy to travel with her on her journey.
The Fire Emblem series is copyrighted by Nintendo. The Fire Emblem Wiki is in no way affiliated with Nintendo.