Home
Talk

146
3,989pages on
this wiki
Featured Article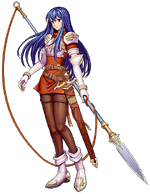 Shiida (シーダ Shīda, translated Caeda in the North American version) is a playable character in Fire Emblem: Ankoku Ryū to Hikari no Tsurugi, Fire Emblem: Mystery of the Emblem, and their remakes. She also appears as a SpotPass character in Fire Emblem: Awakening. She is the pure-hearted princess and Pegasus Knight of Talys, and the childhood friend of Marth. She joins Marth in his quest, staying by his side most of the time and is also responsible of recruiting various people, including Castor, Nabarl, Roger, Jake and Lorenz. In the end of Marth's battle against Medeus, Shiida eventually becomes Marth's fiancée.
Several years after the battle, Shiida moved to Altea and was welcomed warmly. Unfortunately, shortly after Marth left on request of King Hardin, Altea was attacked and was mostly taken over. Marth's sister, Elice, surrendered herself, giving Shiida a chance to escape and to reunite with Marth. Once again, she accompanied Marth in his new quest and eventually in the end of it, they were married.
Poll

Which game of the main series that was officially released in English is your favorite?

 

Previous poll
Which Awakening DLC artist would you want doing the art for the next Fire Emblem game?

Shirow Minwa (Lyn): 2566 — 35.63%

Koutarou Yamada (Ephraim): 1105 — 15.35%

Kimihiko Fujisaka (Roy): 994 — 13.8%

Eiji Kaneda (Ike): 541 — 7.51%

Senri Kita (Marth): 526 — 7.3%

Daisuke Izuka (Eirika): 277 — 3.85%

Arco Wada (Micaiah): 272 — 3.78%

Masatsugu Saitou (Celica): 229 — 3.18%

Sachiko Wada (Leif): 210 — 2.92%

HACCAN (Alm): 133 — 1.85%

Douji Shiki (Elincia): 75 — 1.04%

Rika Suzuki (Seliph): 72 — 1%

Shinnosuke Hino (Catria): 68 — 0.94%

Kinu Nishimura (Est): 66 — 0.92%

Homare (Palla): 66 — 0.92%

The poll was created at 03:41 on 11 August 2013 and 7201 people voted.
The Fire Emblem series is copyrighted by Nintendo. The Fire Emblem Wiki is in no way affiliated with Nintendo.