Featured Article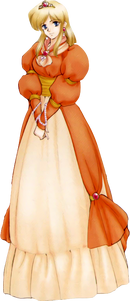 Raquesis (ラケシス Rakeshisu) is a character from Fire Emblem: Genealogy of the Holy War. She is the princess of Nodion and the younger sister of Eldigan, whom she holds in deep reverence. Raquesis is sarcastic, sharp-tongued, strong-willed and has a strong sense of pride, preferring to make her own choices, instead of having others decide for her. If paired up, Rackesis's children are Nanna and Delmud.
Raquesis is known to have survived the Battle of Belhalla, and brings Nanna to Leonster to live with Finn, while she sends Delmud to live with the other children in Isaach. Raquesis becomes a surrogate mother of sorts for Leif during this time.
The Fire Emblem series is copyrighted by Nintendo. The Fire Emblem Wiki is in no way affiliated with Nintendo.