Home
Talk

146
3,984pages on
this wiki
Featured Article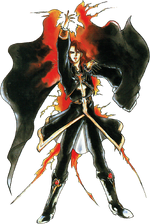 Arvis is an antagonist of Fire Emblem: Genealogy of the Holy War. After the death of King Azmur, he is appointed Emperor of Grannvale. He is the son of Duke Victor of Velthomer and Cigyun, therefore the descendant of Fala on his father's side and Saint Maira on his mother's side. He is largely manipulated by Manfroy because he has minor Loptyr blood, making him the key to the Manfroy's dark ambitions. He is the father of Julius, Julia, and Saias.
More - Nominate or vote for the next Feature Article here.
The Fire Emblem series is copyrighted by Nintendo. The Fire Emblem Wiki is in no way affiliated with Nintendo.