Home
Talk

146
3,983pages on
this wiki
Featured Article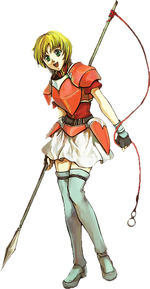 Amelia (アメリア Amelia) is a playable character in Fire Emblem: The Sacred Stones. She is an orphan from the small Grado village, Silva, and is a young girl who is inexperienced in combat.
Amelia's motivation to join the Grado army stems from her broken childhood; where in her village Silva was attacked by bandits. Her father was killed in the raid and her mother, Melina was kidnapped and presumed dead by Amelia. After this event, Amelia vowed to be the greatest soldier Grado will ever behold in order to protect her loved ones.
She first appears in her new residence, Serafew, where one of Eirika's companions or Eirika herself visits her house just as she leaves, finding a Torch that she had dropped in her rush to join the army. She is later seen in three possible locations and can be recruited using either the lords or Franz.
Poll

Which game of the main series that was officially released in English is your favorite?

 

Previous poll
Which Awakening DLC artist would you want doing the art for the next Fire Emblem game?

Shirow Minwa (Lyn): 2566 — 35.63%

Koutarou Yamada (Ephraim): 1105 — 15.35%

Kimihiko Fujisaka (Roy): 994 — 13.8%

Eiji Kaneda (Ike): 541 — 7.51%

Senri Kita (Marth): 526 — 7.3%

Daisuke Izuka (Eirika): 277 — 3.85%

Arco Wada (Micaiah): 272 — 3.78%

Masatsugu Saitou (Celica): 229 — 3.18%

Sachiko Wada (Leif): 210 — 2.92%

HACCAN (Alm): 133 — 1.85%

Douji Shiki (Elincia): 75 — 1.04%

Rika Suzuki (Seliph): 72 — 1%

Shinnosuke Hino (Catria): 68 — 0.94%

Kinu Nishimura (Est): 66 — 0.92%

Homare (Palla): 66 — 0.92%

The poll was created at 03:41 on 11 August 2013 and 7201 people voted.
The Fire Emblem series is copyrighted by Nintendo. The Fire Emblem Wiki is in no way affiliated with Nintendo.