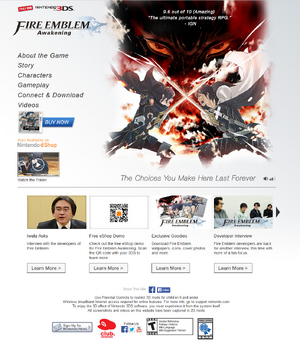 Fireemblem.com is an official Fire Emblem website that had information on all of the localized Fire Emblem games outside of Japan. It featured Fire Emblem: Shadow Dragon as the current game available and had a link for the official website for Fire Emblem: Radiant Dawn.
However, with the release of Fire Emblem Awakening, it seems the site has removed information on previous games, instead being revamped to feature Awakening. None of the info hosed on the website previously seems to be available.
History of Fire Emblem
Edit
This page is no longer available, but the information that was featured on it is as follows:
The Fire Emblem: The Blazing Blade website had a section that contained portions of the history of Fire Emblem series, mentioning the six previous Japanese games released before The Blazing Blade. In addition, some of the main characters from those games were mentioned.
The characters and games that were mentioned, including name differences in the official website were:
* - These names first appeared in Super Smash Bros. Melee, then in Super Smash Bros. Brawl and Fire Emblem: Shadow Dragon.
** - These names appear in Fire Emblem Awakening.
*** - Monshō no Nazo changed to Mystery of the Emblem, Serlis to Seliph, Seisen no Keifu to Genealogy of the Holy War, and The The Binding Blade to The Binding Blade in Awakening's localization.
External links
Edit
Ad blocker interference detected!
Wikia is a free-to-use site that makes money from advertising. We have a modified experience for viewers using ad blockers

Wikia is not accessible if you've made further modifications. Remove the custom ad blocker rule(s) and the page will load as expected.