Fleet
Talk

0
3,754pages on
this wiki
Fleet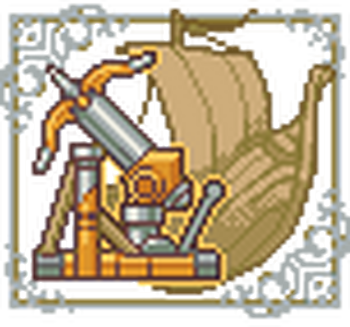 The Fleet is a class that appears exclusively in Fire Emblem: The Sacred Stones, in Chapter 10: Turning Traitor of Ephraim's story. They appear as ships and can use bows and are armed with Ballista. They have only 3 movement and can only traverse sea.
Only 2 Fleet appear in that level: one to the southeast near the gate, and the other to the northwest, obstructing direct flier traversity, as well as holding a Secret Book. They can be taken down quickly with a flier, though it is dangerous. A promoted Ross (either Pirate or Berserker) can also meet with it, though it is likely to run and/or give serious injuries to him if he is still a Pirate.
They are similar to the Transporter class, due to the fact that they have maxed Constitution.
Their 3 movement is actually only 1 movement, because moving on Sea requires 3 movement to move 1 space.