Mad King Gangrel
Talk

0
3,754pages on
this wiki
Mad King Gangrel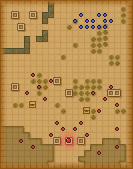 "Emmeryn is dead. After realizing a new resolve, Chrom along with his friends and allies, confront the Mad King of Plegia to stop his reign of injustice and insanity. Not only to save the people of Ylisse, but the people of Plegia as well. The Mad King's army is in chaos as mutiny continues to spread amongst his ranks giving Chrom and his forces a chance to end him once and for all."
—Opening Narration
Mad King Gangrel (Foolish King Gangrel in the Japanese version) is Chapter 11 of Fire Emblem: Awakening. There are two chests within the chapter.
The enemy units in this chapter vary throughout several types, therefore it is good to have a wide variety of different classes when fighting on this map.
The eastern side of this map is very magic heavy. For this reason, it's clever to send a few resistance heavy units in this direction. Be careful when using fliers for this job as some mages wield various types of wind magic which fliers are vulnerable to. Also note that Gangrel wields a Levin Sword which uses magic to attack so the resistance heavy characters that are selected will also be useful for fighting Gangrel.
Another tip to keep in mind is placing units on as many forts as possible; enemy reinforcements will pop out of the forts throughout the chapter on various turns. Enemies that can spawn from these forts include fighters, mages, mercenaries, heroes, wyvern riders, and myrmidons).
Battle Conversations
Edit
Chrom vs Gangrel
Edit
Gangrel: Come, princeling! I've sharpened my sword just for you!
Chrom: My sister wished for our people to know peace, Gangrel. But as long as you draw breath, it can never come. For Ylisse!
Gangrel: Clinging to each other won't save you maggots when the boot falls!