Forseti (tome)
Talk

0
3,983pages on
this wiki
Forseti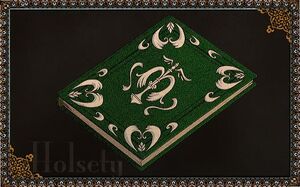 Artwork of the Forseti tome from Genealogy of the Holy War.
Forseti (フォルセティ Foruseti, Holsety in the Japanese version) is a holy Wind tome from Fire Emblem: Genealogy of the Holy War, Fire Emblem: Thracia 776 and Fire Emblem: Awakening. This tome was once wielded by Sety the Crusader, and which was bestowed upon him by Forseti.
In Genealogy of the Holy War, this tome grants its wielder a bonus of +10 Skill and +20 Speed, and may only be wielded by users possessing major Forseti Blood.
Weapon Stats
Edit
Item Locations
Edit
| Method | Location |
| --- | --- |
| Inventory | Equipped by Ced |
Method
Location
Treasure
Xeno. 15 - Random from Chest.
SpotPass Bonus Item
Available for download from the following dates onwards:
30th August 2012 JP
13th June 2013 NA
14th August 2013 EU
In the French version of Awakening, the description mistakenly states it grants +5 Magic.