Geese
Talk

0
3,755pages on
this wiki
Geese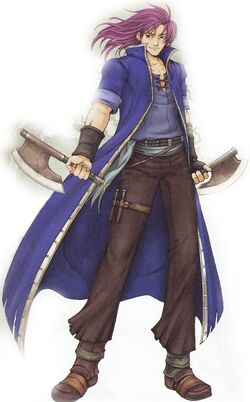 "Yeah. My friends were killed by the lord of that castle. I gotta avenge them."
—Geese

Geese (ギース Gīsu) is a playable character in Fire Emblem: Binding Blade. He is the younger brother of Geitz, and the son of a rich merchant. He became a pirate after the bankruptcy of his first merchant job. He originally attacks Roy, mistaking him for one of the corrupt Etrurian soldiers in order to avenge the capture and death of his comrades until Roy persuades him to do otherwise. He runs a trading business as well, and always risked storms and other seaborne hazards to deliver food to the villages of the Western Isles. After the war, he reopened his trade routes.






Base Stats
Edit
*Replaces Brave Axe in route B.
Growth Rates
Edit
Promotion Gains
Edit
HP + 5
Strength + 3
Skill + 4
Speed + 1
Defense + 3
Constitution + 3
Move + 1
Axe Mastery + 1
In contrast to Gonzales, Geese stats are well equally distributed despite having less room for leveling up. In particular, his skill growth rate is higher than Gonzalez, so accuracy should not be a problem for Geese as a Berserker. However, like most footsoldiers and cavalry, his magic resistance is not that great, so one should avoid bringing Geese to the frontlines when it comes to spellcasters. Though axes in Binding Blade have notably lower accuracy than in the following two titles, Geese's well-balanced starting stats and growth rates make him a very useful unit.
Character Ending
Edit
Geese - Ruler of the Seas (海の王者 Umi no ōja)
Geese reopened his trading routes, where he started to regain his profits once again. He donated large portions of his wealth to the Western Isles, helping greatly in the area's development. His generous aid earned him the title of the "Ruler of the Seas."