Girl of the Spirit Forest
Talk

0
3,977pages on
this wiki
Girl of the Spirit Forest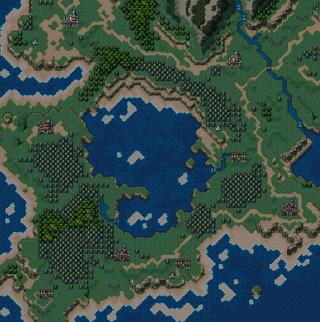 "Adean was nowhere to be found in Evans Castle. She had already been taken deep into Verdane territory. Verdane existed under the cover of a thick forest. In the past, Verdane's frequent encroachment of the border earned them the label of barbarians by the people of Grannvale. Under the reign of King Batou, Verdane witnessed a cessation of all fighting along the border. The amiable monarch succeeded in maintaining the peace with Grannvale, while pacifying his zealous sons. However, that very peace was ultimately violated by none other than King Batou. The king ordered his three sons to invade Grannvale. There was Kinbois of Genoa, the eldest son, Gandolf of Marpha, and Jamke, the youngest of the three. Using the forest as cover, the savages awaited Sigurd's arrival. Where had Adean been swept off to? And what incited King Batou to invade Grannvale without warning? Sprawling before Sigurd lay the daunting Great Verdane Forest. He was about to set foot into the forest of spirits..."
—Opening Narration
Girl of the Spirit Forest is Chapter 1 of Fire Emblem: Genealogy of the Holy War
If when fighting Kinbois' group he starts to retreat, if he reaches Genoa castle, he will come out with reinforcements.
There are 3 Villages in this chapter, but none give out items.
There are 3 Churches in this chapter.
Cuan can talk to Fin to give him a stat boost.
Objectives
Edit
Capture Genoa
Conquer Marpha
Conquer Verdane
New Characters
Edit
Secret Event
Edit
If Lex moves to the tip of a peninsula just past the Spirit Forest and he still has an Iron Axe in his inventory, a cutscene involving the Maiden of the Lake occurs, culminating in Lex receiving the Brave Axe.
Arena Data
Edit
| | | | | | | | | | | | | |
| --- | --- | --- | --- | --- | --- | --- | --- | --- | --- | --- | --- | --- |
| Tier | Name | Class | Melee weapon | Ranged Weapon | Lvl | HP | Str | Mag | Skl | Spd | Def | Mdf |
| 1 | Gazack | Axe Fighter | Iron Axe | Hand Axe | 1 | 36 | 8 | 0 | 3 | 10 | 8 | 0 |
| 2 | Crotor | Mage | Fire | Fire | 4 | 30 | 0 | 8 | 7 | 7 | 1 | 6 |
| 3 | Wiseman | Lance Knight | Iron Lance | Javelin | 7 | 37 | 9 | 0 | 8 | 8 | 8 | 0 |
| 4 | Shark | Swordfighter | Steel Sword | (only appears in melee) | 10 | 40 | 10 | 1 | 13 | 13 | 8 | 1 |
| 4 | Hood | Hunter | (only appears in ranged) | Steel Bow | 10 | 40 | 10 | 0 | 13 | 13 | 8 | 1 |
| 5 | Bachus | Axe Armour | Steel Axe | Hand Axe | 13 | 53 | 12 | 1 | 8 | 6 | 13 | 1 |
| 6 | Emil | Wind Mage | Elwind, Speed Ring | Elwind, Speed Ring | 16 | 42 | 1 | 11 | 10 | 13 | 2 | 9 |
| 7 | Dice | General | Steel Blade | Steel Bow | 19 | 59 | 15 | 1 | 11 | 10 | 17 | 4 |
Girl of the Spirit Forest/Script