Hauteclere
Talk

0
3,989pages on
this wiki
Hauteclere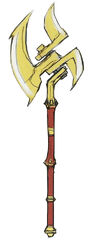 "Say, did you happen to get a look at the axe wrapped in Minerva's princessly fingers? No, I suppose not, or else you'd not be standing here. That axe is the Hauteclere, the strongest axe of 'em all. Nobody knows who made it or where, but it's said to rival even the Three Regalia, Akaneia's mightiest weapons. Why if she got her hands on Iote's Shield (that'un being Medon's treasure, see), she'd be nigh unstoppable!"
—A Villager in Chapter 7 of Fire Emblem: Shadow Dragon.
The Hauteclere (オートクレール) is an Axe that appears in Fire Emblem: Shadow Dragon, Fire Emblem: Shin Monshō no Nazo ~Hikari to Kage no Eiyū~, and Fire Emblem: Awakening. It is unknown where it came from or who made it, but it is noted to be of equal strength to the Three Regalia of Akaneia. In Shadow Dragon it first appears in Chapter 7, wielded by Minerva, a Dracoknight and the princess of Medon, but it cannot be obtained. In Chapter 10 Minerva wields it again, and it can be obtained by recruiting her or defeating her. In Fire Emblem: Awakening, it is a random loot item in one of the three chests in the replayable DLC, Infinite Regalia and can also be awarded as a prize for defeating the "Basilio's Brashest" team in Double Duel.
Etymology
Edit
The Hauteclere is named after the sword wielded by the hero Olivier in the medieval French epic The Song of Roland.