Hilda
Talk

0
3,777pages on
this wiki
Hilda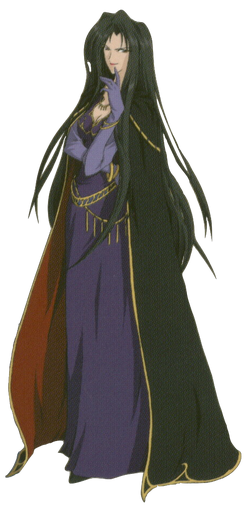 "Heheheh... You're Tailto's kid, right? I drove that woman to her grave. You've come to avenge her death, have you?"
—Battle Quote with Arthur

Hilda (ヒルダ Hiruda) is a villain from Fire Emblem: Genealogy of the Holy War. She is the wife of Duke Bloom of Freege, the daughter-in-law of Reptor, the mother of Ishtar and Ishtore, a sister-in-law to Tailto and Ethnia, an aunt to Arthur, Teeny, Amid and Linda, and a descendant of the Velthomer royal family.

Despite sharing familial ties with Tailto, Ethnia, Teeny and Linda, Hilda absolutely despises them all. This leads to her abusing them, causing Tailto/Ethnia to succumb to the mental torture they sustained. She also willingly supports the Child Hunts and hopes for Ishtar to wed Julius as soon as possible, all for her own selfish gains. She is thus said to not possess a soul, as her actions are both cruel and merciless. Hilda will ultimately be slain by Seliph's liberation army in the final few chapters of the game.






Chapter 10
Edit
*Dropped when defeated
Final Chapter
Edit
*

in the Final Chapter (See below).

Hilda is fought twice, once in Chapter 10, and another in the Final Chapter. She is extremely powerful with a whopping attack power of 50. This is thankfully offset by the fact that Bolganone is a heavy tome, essentially lowering her attack speed by a significant amount.
In the Final Chapter, Hilda is shown to possess Dain (Major) Holy Blood instead of Fala (Minor), which is wholly incorrect.