Holmes
Talk

0
3,753pages on
this wiki
Holmes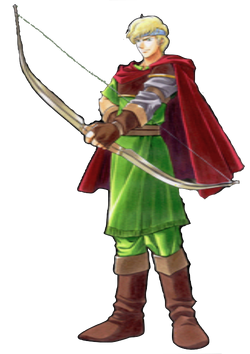 Holmes (ホームズ Hōmuzu) is one of the main characters of TearRing Saga: Utna Heroes Saga. He is the son of Granada's Captain General Vals and a good friend of Runan. He leads his personal Granadan fleet, the Sealion, and is an infamous pirate, known as the "Conquerer of the Sene Sea". His father fought alongside Runan, but was defeated in battle. Following their defeat, Holmes and Runan escaped from Granada, to the island Kingdom of Wellt, and went their separate ways. He is also revealed to be the half-brother of Attrom. Eventually, Holmes recovered Granada from the empire's grasp and succeeded his father as Captain General.
Character Information
Edit
Recruitment
Edit
Automatically from the start of Map 11.
Base Stats
Edit
Growth Rates
Edit
Promotion
Edit
Clear Map 29 to activate the promotion event.
(Current Level)

Hide Hunter
HP: +2
Str: +1
Mag: 0
Skill: +1
Agl: 0
Lck: 0
Wlv: 0
Def: +2
Mov: +1
Able to use Swords upon promotion.