Ikanau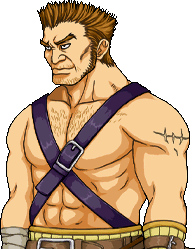 "Heh heh heh. I've been waiting for you, you red-haired demoness. You are going to hurt--and hurt bad. This is for my mates who fell before you in Caldea!"
—When fighting Titania
Ikanau is a bandit from the same group as Zawana, and the boss of Chapter 2. He kidnaps Mist and Rolf, in order to lure and ambush Titania as revenge for killing his comrades.
Easy/Normal Mode Stats
Edit

*Drops when defeated
Battle Conversations
Edit
Ikenau: Graaw! we won't lose, not to likes of you!
Ike: Will you let two of them go now?
Ikenau: Sure, you can have 'em both. If you can beat me, that is!
Ikanau: Heh heh heh. I've been waiting for you, you red-haired demoness. You are going to hurt--and hurt bad. This is for my mates who fell before you in Caldea!
Titania: No matter your motives, you've taken helpless innocents as hostages. You're not fit to be called human. May the blessings of the goddess be kept from you for all eternity!
Death Quote
Edit
"This... This can't be... I don't deserve to lose to sellswords like you..."
—Ikanau's Death Quote