Imhullu
Talk

3
3,754pages on
this wiki
Imhullu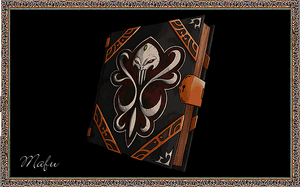 Official artwork of the Imhullu tome.
Imhullu (マフー Mafū, lit. Maph) is a Dark Magic spell from Fire Emblem: Ankoku Ryū to Hikari no Tsurugi, Fire Emblem: Mystery of the Emblem, Fire Emblem: Shadow Dragon, and Fire Emblem: Shin Monshō no Nazo ~Hikari to Kage no Eiyū~. Primarily used by Gharnef, this spell is created from the nefarious Darksphere. Gharnef is said to have stolen the Imhullu spell from Gotoh as a result of the latter having entrusted the Aura tome to his other star pupil, Miloah. The spell essentially twists Gharnef's heart, turning him into the sinister, fiendish being in the games he appears in. The Imhullu spell is capable of sealing and therefore negating all attacks, with the exception of Starlight.
In both Mystery of the Emblem and Shin Monshō no Nazo, two copies of the Imhullu spell exist in-game, with one wielded by the real Gharnef, and the other wielded by his clones. Through the employment of a cheating device, both copies of the spell may be obtained by the player. However, while the real Imhullu spell is true to its effect and negates all damage inflicted against its user, the fake copy merely changes the damage displayed just before a battle is initiated, but has actually has no effect.
Weapon Stats
Edit
Etymology
Edit
In Babylonian mythology, Imhullu, the terrible wind, was one of the weapons used by the god Marduk to vanquish Tiamat. Mafu means "demonic wind" in Japanese.
In Mystery of the Emblem, the Imhullu spell is usable by other characters by means hacking or cheating. However, the invincible effect that it possesses only works for Gharnef. Furthermore, when the spell is cast by any other character apart from Gharnef, the dark background effect will be absent.
Although Imhullu technically does not have a magic type, it is most similar to dark spells and has thus been categorized with them. This association is made clearer with the release of Fire Emblem: Awakening, where Dark Magic is treated as a subcategory of Tome.