Jahn
Talk

0
3,752pages on
this wiki
Jahn
"One thousand years... My strength has long recovered. I can feel it..."
—Jahn
Jahn (also translated Yahn in the fan translation) is an antagonist from Fire Emblem: Binding Blade. He fought in The Scouring and survived the war, nursing his wounds in the Dragon Temple when Zephiel undid the temple seal. When Jahn approached him, Zephiel, now the King of Bern, expressed the desire to return the land of Elibe to dragons.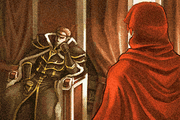 Jahn is the last boss before Idenn, the Demon Dragon, who can be fought if certain conditions are met. As the player fights to reach him in the temple, he tells Roy his story and what happened in the Scouring. During that time Jahn would duel with a divine dragon and triumpth, which left him with a permanent scar. After the Scouring, dragons alone were blamed for the elemental imbalances in the world. In truth, both parties were responsible, as The Ending Winter was caused by the clashing of the tremendous power of the Dragons and the Divine Weapons. He also explains Idenn's origins. Despite denying hatred towards humanity, he seems devoted to the idea that dragons and humans cannot live together and that one race must be driven out of Elibe for the other to survive. When Roy mentions the existence of Arcadia, a place where the two races live together in harmony, he shrugs it off, calling such a place absurd.
Jahn, here referred to as "enigmatic man", also appears in the ending of Fire Emblem: Rekka no Ken, as a man in a red cloak who is talking to Zephiel, asking why he had awakened Idenn. He later recalls this conversation when telling his tale to Roy in Binding Blade, noting that he did not trust Zephiel at the time, but worked with him because Zephiel was Idenn's master.
Normal Mode
The arrows symbolize Jahn's boosted stats with the Firestone equipped
Hard Mode
The arrows symbolize Jahn's boosted stats with the Firestone equipped
Death Quote
Edit
"So, I have lost... Humans are truly unpredictable..."
—Jahn's death quote in Binding Blade.
Musical Theme
Edit
Jahn's battle theme is called The Last Dragon, which plays when he is fought in battle.