Jungby
Talk

0
3,777pages on
this wiki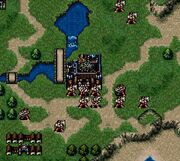 Jungby is one of the six dukedoms of the Kingdom of Grannvale in Fire Emblem: Genealogy of the Holy War and Fire Emblem: Thracia 776. It was founded by Ulir, the Sniper, and ruled by Duke Ring during the first generation and Scopio during the second generation. The Holy Bow Yewfelle is passed down the Jungby family. Their knight squadron is known as Beige Ritter.
In the first generation it is led by Duke Ring, but after Andorey killed him, Andorey took over. During the second generation, it is led by Andorey's son, Scopio. In the game, Briggid and her son Faval are the only characters that can use the Ichii-bal.
Possibly the most remote of the duchies, it is situated some distance southeast of Chalphy, and the Jun River that flows from the northern lake is a natural border between it and Verdane's border castle, Evans.
Notable citizens of Jungby
Edit
Etymology
Edit
A corruption of Yngvi, an alternative name for the Norse god Freyr, which can also be interpreted as 'lord'.