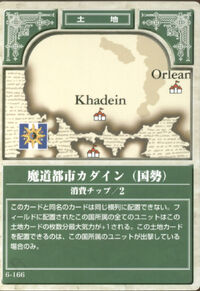 Khadein (カダイン Kadain) is a country on the continent of Akaneia in the games Fire Emblem: Shadow Dragon and the Blade of Light and Fire Emblem: Shadow Dragon. Located in a desert north of Altea, Khadein was founded by the White Sage Gotoh and is renowned for its skillful magic wielders. Khadein is also home to a school of magic where Merric attends before and after the events of Shadow Dragon and the Blade of Light, and Shadow Dragon. Gharnef eventually conquers this kingdom and proclaims himself emperor.
Khadein would eventually become part of Regna Ferox, along with Aurelis.
Notable Citizens
Edit
---
This article is a stub. You can help Fire Emblem Wikia by expanding it.
---
Ad blocker interference detected!
Wikia is a free-to-use site that makes money from advertising. We have a modified experience for viewers using ad blockers

Wikia is not accessible if you've made further modifications. Remove the custom ad blocker rule(s) and the page will load as expected.