Knorda Market
Talk

0
3,752pages on
this wiki
Knorda Market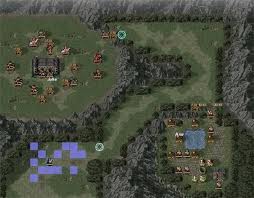 "Tired from many long battles, Marth and the League arrive at last in Akaneia, Princess Nyna's mother kingdom. Past the mountains lay the royal palace, known to some as Millennium Court; and within its walls awaited many treasures and captives the enemy had taken. With each step, Marth draw nearer to one of the great waypoints in his journey"
—Opening Narration
Knorda Market is Chapter 11 of Fire Emblem: Shadow Dragon.
You will find the first Ballisticians and your first enemy Manakete (that is not required to be defeated). You will also find another Arena that you can use to train your units and earn some extra gold. If you visit Anna, and talk to Jake (with Shiida), you can recruit him.
Enemy Reinforcements
Edit
None.
Steel Sword - 875g
Silver Sword - 2000g
Rapier - 1120g
Steel Lance - 980g
Silver Lance - 2200g
Javelin - 750g
Steel Axe - 700g
Hand Axe - 540g
Steel Bow - 770g
Fire - 300g
Thunder - 420g
Blizzard - 690g
Heal - 800g
Mend - 1280g
Door Key - 500g
Vulnerary - 360g
Try to keep weak units out of the range of the Ballistae. The damage is devastating but their accuracy is horrific, so it might not seem like a threat at first. Make sure to keep your fliers far away from Jake (except with Shiida (AFTER speaking to Anna, otherwise she will be attacked as well), if you wish to recruit him. A General can be useful for safely taking the Ballistae out if you have one.
Pay a visit to the arena for some extra cash to buy more items if you are short on supplies. The extra levels will help your units survive Ballistae if they are weak. If you decide to go, visit the homes until you enter the one with Anna, After that, you can recruit Jake.