Liberation of Grust
Talk

0
3,754pages on
this wiki
This Article needs a quote(s)!
This article is in need of a quote(s). Remove this template when a quote(s) have been added. If you are unsure whether or not a quote is appropriate, please discuss it on the Talk Page.

Liberation of Grust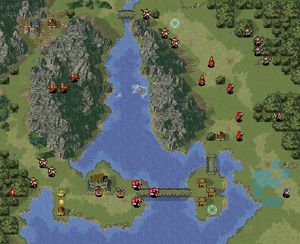 "The shocking news brought by Caeda was a terrible blow to Marth. Hardin was once not only a comrade-in-arms, but a trusted confidant and irreplaceable friend. "Yet… why attack Altea? What have I done wrong?" Filled with frustration, Marth hurried his return to his homeland, but the first barrier stood in his way: Olbern Keep, headquarters of the Grustian Occupation Army led by the evil General Lang… also known as the "Nest of Evil.""
—Opening Narration
Liberation of Grust is Chapter 5 of Fire Emblem: Mystery of the Emblem and its remake.
There are Snipers in Jeorge's group. Do not attack them because they will kill you. You cannot recruit Jeorge yet, wait until Chapter 8. Also it is essential that you use cavaliers and help box in Rickard so that Julian can talk to him. The Village to the Northwest will give Marth a Hammerne staff. After around 5 turns, a thief will appear in the Southwest corner to destroy the village so don't take your jolly sweet time getting there.