Light Brand
Talk

0
3,790pages on
this wiki
Light Brand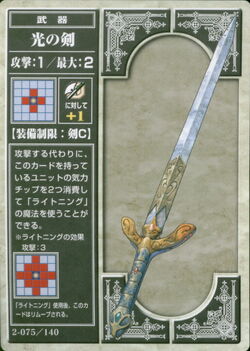 The Light Brand (光の剣, Hikari no Ken, translated as the Light Sword in the Japanese versions) is a recurring magic sword in the series. It has the ability to perform ranged attacks, which are treated as light-based magic attacks (the spell animation is the same as the Light Tome Lightning), as well as direct attacks, which are treated as regular physical attacks. It is analogous to the Anima Wind Sword and the Dark Runesword, although it doesn't have any other side-effects like the other two do.
Calculations
Edit
To calculate the damage for the ranged magic attack, you take half of the user's Str (round up if necessary) and add it to the weapon's might. Take that total and subtract it by the enemy's Res. This only applies in Fire Emblem: Rekka no Ken and in Fire Emblem: The Sacred Stones.
In Fire Emblem: Binding Blade, the ranged attack's total might will always be 10, regardless of Str or Res.
The Weapon Triangle is used in direct combat and the Trinity of Magic is used in indirect combat.
*Preference Leif
Binding Blade, Rekka no Ken, and The Sacred Stones
Edit
| Name | Type | Rank | Uses | Mt | Hit | Crt | Rng | Wt | WEx | Worth | Effect(s) |
| --- | --- | --- | --- | --- | --- | --- | --- | --- | --- | --- | --- |
| Light Brand | Sword | C | 25 | 9 | 70% | 0% | 1-2 | 9 | 1 | 1,250 | Indirect combat will be a light-based magic, using half your strength stat; direct combat will be a physical sword attack. In Sacred Stones, checks against Resistance for both direct and indirect. Uses normal sword weapon triangle placement for melee in all games, and light triangle placement for indirect attacks. |
How to Obtain
Edit