List of Fire Emblem Fan Books
Talk

11
This is a list of Fire Emblem Fan Books published by professional publications. As the name suggests, these books were designed for fans of Fire Emblem and provide information on the games, as well as official artwork. Some background details not found in the actual games may be included in these books. Currently, no Fire Emblem fan book has been released officially in English.
Fire Emblem 20th Anniversary Encyclopedia
Edit
Basic Info
Edit
Publisher: Shogakukan
Release: June 30, 2010 (Japan)
Price: 2,800 yen (tax included)
type size: Text B5 size 240pages
Code: ISBN978-4-09-106467-7
A fanbook that covers the entire series from FE1 to FE12 (although it does not contain much on FE12 as it wasn't out as of production, it does have some exclusive FE12 art). Features 900+ artwork, including roughly 600 characters, over 240 pages. It contains:
Messages & Illustrations - Some exclusive art by the below illustrators. (Pages 4–8)
Fire Emblem History - The history of the games and an overview of what system they came out for, release dates and summaries. (Pages 9–16)
World Guide - Huge section that separating them not by games but instead continents, like Magvel, Jugdral, etc. Goes through each character and gives all art and a written summary beside the character. (Pages 17–216)
Gallery & Interviews - Contains all the trading card game art (in low resolution) and an interview with some of the designers. (Pages 217-239)
Columns - Some section are interspersed with other features of the fan book like red/green knight archetypes, or Roy, Ike and Marth's appearances in Super Smash Bros.
Illustrators who contributed to the Message & Illustrations
Edit
Senri Kita (Engines, Inc.) (Fire Emblem: Radiant Dawn character designer)
Eiji Kaneda (Fire Emblem: Binding Blade character designer)
Kogawa Misaki
Ogaki Chika
Yamada Koutarou (Fire Emblem: Hasha no Tsurugi manga artist)
Fire Emblem Memorial Book Archanea Chronicle
Edit
Basic Info
Edit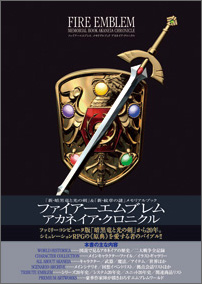 Publisher: Kadokawa Group Publishing (publisher: ASCII Media Works)
Release: December 17, 2010 (Japan)
Price: 3,150 yen (tax included)
Type size: B5 size luxury binding 256P
Code: 978-4-04-868941-0
A fanbook that focuses on FE11 and FE12. Main features:
World and Historica - Information on the history and battles of Archanea. Includes diagrams depicting the factions that hold power, as well as the military might after the War of Heroes.
Character Collection - Details on all the playable and important enemy characters. Besides the Trading Card Game artwork being displayed in large size, while the main illustrations from FE1, FE3, BS Fire Emblem, FE11 and FE12 are also included.
All About Archanea - Glossary of characters, classes, items and etc.
Scenario Archive
Tribute Emblem
Premium Artworks
Illustrators who contributed to the Premium Artworks
Edit
External links
Edit
---
This article is a stub. You can help Fire Emblem Wikia by expanding it.
---