Lopto Mage
Talk

0
3,752pages on
this wiki
This Class Article needs Stats adding!
This class article is missing stats from one or more games. Remove this template when they have been added.

Lopto Mage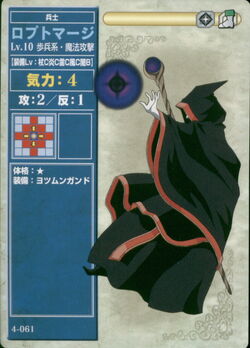 The
Lopto Mage (ロプトマージ Roputo māji) is a dark magic user class introduced in Fire Emblem: Thracia 776.
The Lopto mages are members of the Lopto Sect, and unlike many other Dark magic users in the series their magic is specifically designated as evil. Lopto Mages are also capable of using Staves and all forms of Anima Magic.
Salem is the only playable Lopto Mage in Thracia 776. In that game, Salem, despite being a member of the Lopto Sect, started to question the their actions, which is considered an act of treason. Salem was then forced to flee the wrath of the sect, and survives thanks to Pirn's timely assistance. Salem then joins Pirn's band of thieves, and can later be recruited into the player's army in Chapter 12x, provided that the requirements to enter said chapter have been fulfilled beforehand.