Mage Dragon
Talk

25
3,754pages on
this wiki
Mage Dragon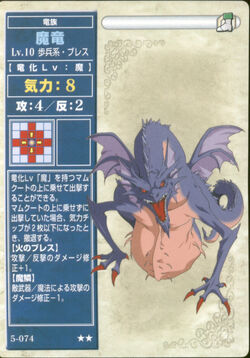 Mage Dragon (translated Magic Dragon [魔竜 Ma Ryū] in the Japanese version and Demon Dragon in fan translations and the epilogue of Rekka no Ken) is both a dragon type and enemy class in several Fire Emblem games.
In the Akaneia Series, Mage Dragons are one of the main Dragon Tribes and joined with the Doluna Empire to ensure Manaketes would continue to rule the world. They are also known as the Basilisk tribe as mentioned in the NES version of the first game.
In the Elibe series, Mage Dragons were artificially created by transforming Divine Dragons. During The Scouring, the Fire Dragons led by Jahn wanted to use the Divine Dragons to create the mindless War Dragons to combat humanities greater numbers However the Divine Dragons refused and only one known as Idenn was successfully captured by Jahn. Idenn was forcibly transformed into a Mage Dragon and had her soul shattered so she could not disobey them. The class's only attack is Dark Breath although the attack itself can be fire breath, a kick, or a whip with her tail.
Mage Dragons typically resemble Eastern Dragons and possess an elongated neck. They are not depicted with wings except in Ankoku Ryū to Hikari no Tsurugi where they were a palette swap of Fire Dragons and in Binding Blade.
Mage Dragons are a powerful enemy class Fire Emblem: Ankoku Ryū to Hikari no Tsurugi and it's sequel Fire Emblem: Mystery of the Emblem. Unlike other dragons, who deal physical damage, a Mage Dragon's attacks are counted as magical damage. The class is also immune to magical attacks.
In Fire Emblem: Mystery of the Emblem, Mage Dragons are not immune to magical damage, but have a resistance of 20 making them resistant to most spells except powerful ones (such as Aura) or a magic user who has a high magic stat (this does not happen often because this stat has poor growth rates).
It later reappeared as Idenn's personal boss class in Fire Emblem: Binding Blade.
Aside from a secret shop that sells Magestones in Mystery of the Emblem and its remake, there has never been a playable or friendly Mage Dragon.
Maximum Stats
Edit
Notable Mage Dragons
Edit
Ankoku Ryū to Hikari no Tsurugi
Edit
Binding Blade
Edit