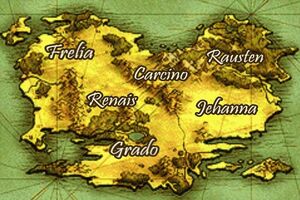 Magvel (Japanese: マギ・ヴァル, Magi Val) was the continent which serves as the setting for Fire Emblem: The Sacred Stones. All of the countries in Magvel (except for Carcino) were founded by one of the ancient heroes who sealed away the Demon King.
Territories and locations
Edit
Etymology
Edit
One possibility could be that the 'vel' in 'Magvel' comes from the 'Vel' in Hindu tradition, a mythical spear wielded by the god Murugan. Also, spears used by the Tamil people of south India were called 'vels.' The 'mag' in 'Magvel' probably refers to 'magic,' but it could also imply 'magna,' which means 'great' in Latin, or to 'magi,' which was the name for the priestly upper class of ancient Persian society.
In the Japanese version of the name, マギ・ヴァル (Magi Val), the first part is quite clearly means "magi." The latter part is still vague, as ヴァル does not hold any meaning on its own. It may be derived from the Norse 'valr', which means "those slain in battle."
Like Jugdral, Magvel seems to be a polytheistic continent, as the Vanessa-Syrene C support mentions that their family owns an amulet of the war god, Fale, and Duessel's soldiers (if you keep all three alive in Turning Traitor) wish the blessings of the "gods of war" upon him.
Ad blocker interference detected!
Wikia is a free-to-use site that makes money from advertising. We have a modified experience for viewers using ad blockers

Wikia is not accessible if you've made further modifications. Remove the custom ad blocker rule(s) and the page will load as expected.