Home
Talk

146
3,984pages on
this wiki
Get Involved!
The Fire Emblem Wiki is a community that aims to create the best resource for the Fire Emblem series, a series of video games produced by Nintendo/Intelligent Systems.
All pages can be edited and you are welcome to join us and contribute to this wiki. Everyone is free to create a new page or edit an existing one. You can help out by looking at our wanted pages. Be sure to read over our Policies page.
This Wikia now has 3,984 articles and 232,674 page edits, we would like to extend our thanks to all our contributors.
Featured Article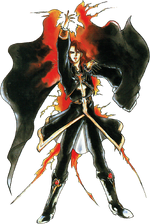 Arvis is an antagonist of Fire Emblem: Genealogy of the Holy War. After the death of King Azmur, he is appointed Emperor of Grannvale. He is the son of Duke Victor of Velthomer and Cigyun, therefore the descendant of Fala on his father's side and Saint Maira on his mother's side. He is largely manipulated by Manfroy because he has minor Loptyr blood, making him the key to the Manfroy's dark ambitions. He is the father of Julius, Julia, and Saias.
More - Nominate or vote for the next Feature Article here.
Poll

If you had to pick one, which Awakening DLC artist would you want doing the art for the next Fire Emblem game?

 
The Fire Emblem series is copyrighted by Nintendo. The Fire Emblem Wiki is in no way affiliated with Nintendo.