"I am a prince before I am a son or brother."
—Marth after liberating his home in Chapter 17 of Shadow Dragon.
Marth (マルス Marusu, Mars in the anime) is a character from the Fire Emblem series of video games. He is the central protagonist and Lord-class character of the original game, Fire Emblem: Shadow Dragon and the Blade of Light, and its sequel Fire Emblem: Mystery of the Emblem, as well as their respective remakes. Although Marth's Fire Emblem titles were released only in Japan at the time, he has acquired more widespread international attention through his appearance in the Nintendo brawler, Super Smash Bros. Melee. The appearance of Marth and Roy sparked a greater level of Western interest in the Fire Emblem series, and it was in part because of this that Nintendo began releasing the games internationally beginning with Fire Emblem: The Blazing Blade, the seventh title in the series. Due to his various appearances in Fire Emblem and his presence in Super Smash Bros and other crossovers, Marth is often looked at as the face of the series.
Shadow Dragon and the Blade of Light/Shadow DragonEdit
Some time after his father, Cornelius, had departed with Falchion to challenge the forces of Dolhr, whose leader, Medeus had resurrected and rebuilt the empire, Marth remained behind in Altea with his mother and elder sister Elice, committing himself to his studies; with much of the Altean army out to war under Cornelius, the defence of Altea was maintained by a garrison of Gra. After Gra betrayed Altea in the middle of battle, with the King of Gra, Jiol, killing Cornelius, the garrison at Altea did the same, seizing the castle for Dolhr. While Elice stayed behind to buy Marth time, he fled the castle guided by Malledus, with a few Altean knights accompany him.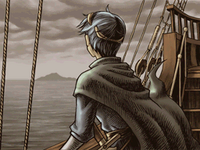 On their way out, Cain returned from the battlefields of Gra to report Cornelius' death and joins Marth's group, with Marth rescuing Gordin who was captured and gagged by Gra's forces. Gra's King Jiol then arrives with a wave of reinforcements, closing in on Marth's group. To ensure the escape of Marth and the others, Frey offered himself as a decoy, dressing as the prince and fleeing to the south, luring Jiol and the reinforcements away. Draug then arrived, having prepared a ship to facilitate the group's escape from Altea, and from there Marth reluctantly fled for the island nation of Talys, swearing he would one day return to free his homeland and seek vengeance upon Gra and Grust.
Following Altea's fall, Marth and his retinue lived in exile in Talys for the next two years, hosted in the island nation's eastern fortress by King Mostyn. When the pirates of Galder descended upon Talys to raid it, called into action by the arrival of his childhood friend, Caeda, Marth's forces departed the fort to combat the invasion; upon its fall, on the advice of Mostyn, Marth's retinue left Talys to commence its goal to rebel against the domination of Dolhr.
The group's first destination was Aurelis, where during their liberation of the country from Macedonian occupation, Marth swiftly befriended commander Hardin, Aurelis' prince, and Princess Nyna of Archanea — the most prominent kingdom — who gives him her country's national treasure, the Shield of Seals, symbolising his fate as the world's chosen champion against Dolhr. From there, Marth led the army to reclaim Archanea, then proceeded on to Gra in an effort to find Falchion, said by Cain to have been taken by the country from his father's corpse. Gra fell, yet Falchion was nowhere to be found, leading Marth to reluctantly decide to detour to Khadein, on Malledus's theory that it had come into Gharnef's possession, instead of pressing on to liberate Altea.
The trip to Khadein proved fruitless, as Falchion and Gharnef were nowhere to be found, and Marth turned his sights on liberating Altea. Upon Altea's fall, Marth learned of his mother's death at the hands of Morzas and that Elice had been taken hostage by Gharnef. Despite his grief at this news, and despite Nyna and Malledus suggesting he take a break, he nonetheless greeted the people of Altea, joyful at their freedom.
From there, Marth led his army in the conquest of Grust and Macedon, before being sent by Gotoh to Thabes in order to confront Gharnef. With Gharnef's death at the hands of a member of Marth's army wielding Starlight, Marth recovered Falchion and, at the top of the tower, reunited with Elice, who had been imprisoned by Gharnef for the purpose of using the Aum staff. In the closing days of the war, Marth turned his focus toward Dolhr Keep, where Medeus himself lay in wait. Engaging him in battle, wielding Falchion, Marth struck down Medeus as Anri had a century before.
At the end of the war, spurred by Nyna's urging, Marth finally confessed to Caeda his longtime affections for her, proposing to her.
Mystery of the Emblem/New Mystery of the EmblemEdit
Following the end of the event known as the War of Shadows, Marth devoted himself to the reconstruction of Altea and Caeda became his fiancee, with the two soon to be married. This is interrupted, however, by a missive from Hardin, now the Emperor of Archanea, who requests that Marth lead the Altean army to subjugate a rebellion in Grust, a command Marth could not disobey due to Archanea maintaining Suzerainty over other countries, including Altea. Leaving Cain in charge of Altea's defense, Marth took some old and newer knights with him to address the Grustian crisis.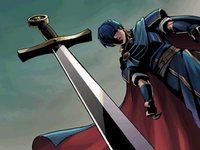 In Grust, he meets with Lang, the general of the Archanean occupying force in the region, whose malicious attitude disgusted Marth; Lang revealed the alleged rebellion was being led by Lorenz, a former ally of Marth's, which raised Marth's suspicions about the situation. Marth soon learned that Lorenz was trying to protect the Grustian heirs, Yuliya and Jubelo, from the Empire and that the uprising was in response to the harsh Archanean domination of the region, being general Lang's doing. Lorenz died from wounds sustained in an earlier battle, after entrusting the prince and princess to Marth and warning him of Hardin's change into a tyrant.
However, despite Marth's protests, Lang arrived and took the two heirs into his custody(as defiance would result in a war with Archanea), then commanded Marth to travel to Macedon and address another rebellion there, in which a military coup had taken Marth's former ally, Princess Minerva, prisoner. Marth's army successfully subdued the coup with the aid of Catria and Palla, but failed to find Minerva as she had already been taken away by her brother, Michalis. During this battle, Marth met Julian and learned of the mysterious disappearance of Minerva's sister Maria, and of the cleric Lena. He also encountered Linde, a mage of Archanea, who entrusted Marth with the Fire Emblem again on Nyna's orders, although she remained unaware of why Nyna did so, realizing that something terrible was coming.
Lang's next order to Marth was to recapture Yuliya and Jubelo, who had been freed from captivity in his castle by Ogma and were on the run; Marth, however, opposes to follow Lang's orders any further, and his defiance is taken as an act of war by Lang, who fled upon being challenged by Jagen. Marth's army moved to rescue Ogma and the children, adopting them into his army along with a mysterious masked knight known only to him as Sirius.
Though he seeks to get Hardin's support in removing the corrupt general, Caeda arrives breathless after they rescued the two royal heirs, surprising Marth that Hardin decided to support Lang and declared him a traitor as she informs Altea was attacked by the imperial army, with Gra and Aurelis ambushing them, with the Altean forces there wiped out and the castle fallen, with only she escaping as Elice remained behind to hold them off. It was then understood that everything was a setup in order for Marth to leave with his elite soldiers so that Altea would be defenseless.
In a bid to end the Archanean abuse of the Grustians, Marth led an attack on Olbern Keep, Lang's domain and the Archanean hold on Grust. After Lang is killed, Marth found Wendell imprisoned in the fortress, who told him of his quest to collect the lost pieces of the Starsphere to prevent the world from falling into ruin.
On Wendell's advice, Marth travelled to the Fane of Raman in a bid to find some of the shards, and though the residing thieves were driven away, they found the temple ransacked and most of the items stolen away, which Jagen commented would infuriate even Naga. Their next destination was Chiasmir, seeking to cross the bridge to avoid pursuit, only to find Hardin himself arriving with his forces, who approached Marth and announced his intent to crack down on all possible dissent against him. Learning that they cannot even harm Hardin because of mysterious power he possessed, Marth had no choice but to escape Chiasmir by sea, taking a ship north to Khadein.
As Marth resolves to find a way to pierce the dark protection his army had observed surrounded Hardin, he learns that Khadein mages were mounting an offense on them, forcing the Altean army to fight back and break into the sactuary, with Archanea's pursuit close at their rear. During the battle he and Wendell found his friend Merric fighting his former classmate Elrean, who in a jealous fit toward Merric had seized control of Khadein and directed its army to attack Marth and Merric; he was also approached by Minerva, who had been tasked by Michalis with joining up with Marth to fight Hardin.
Soon managing to succeed in defeating them and Wendell managing to convince Elrean to stop fighting, Marth was contacted through magic by Gotoh, who told him of Hardin's fall to the Darksphere and requested he travel to the Ice Dragon Temple in the north in order to collect the Lightsphere, the only means of piercing the Darksphere's protection and saving Hardin.
Now making their way through Anri's Way to meet Gotoh, a path once traversed by Anri himself a century prior He travels the route through the Marmotord desert, the Flame Barrel graveyard and the frozen wastelands of the north, fighting degenerated wild dragons, collecting the Starsphere's shards and eventually being guided by Xane, who tells him the true history of Archanea, the manaketes and the creation of Falchion and Fire Emblem. Upon reaching the Ice Dragon Temple, Gotoh uses the twelve shards to reconstitute the Starsphere, giving both it and the Lightsphere to Marth to use against Hardin. He also allowed Marth to wake Tiki and take her with him on his journey, on the condition that Marth collected all five of the Emblem's spheres to restore its true power and allow Tiki to survive.
Gotoh sent Marth's army back to Altea with his warp magic, and Marth once again fought to free Altea from Archanean conquest. At the battle's end, Gotoh contacted him again to warn him of Gharnef's return, and that Gharnef was responsible for abducting Elice, Maria and Lena for reasons unknown, and that he likely sought to abduct Nyna next. Marth resolved to lead a march on the Archanean capital itself, to stop Hardin and get to Nyna before Gharnef abducted her; unbeknownst to him, Nyna had already been given away to Gharnef by Hardin himself.
Entering Gra, they battle the forces of Archanea and Gra, though Gra's soldiers had lost their will to fight. After defeating Archanea's forces and sparing the soldiers of Gra, thus earning Sheena and Samson's trust, Marth discusses his plans to try and reach Hardin faster, as their battles were only buying Hardin more time. He is then suggested that they avoid the route where Archanea's forces are concentrated by going through Adria Pass, for despite being perilous and having the chance of an ambush, it was the fastest course of action, to which Marth accepted, considering the fact they had traveled in Anri's Way prior.
Having gotten through Adria Pass and acquired the Lifesphere from Hardin's older brother, they then learn that a coup d'etat broke out and quickly put down in the palace and the prisoners were being quickly executed by the day, making Marth's forces rush the pace.
Now in the capital of Archanea, they battle the imperial army and then made their way into the palace for the final stand against Hardin. Marth defeats Hardin, and as he died his mind returned to him and he begged Marth to save Nyna and stop Gharnef. Having collected the final sphere from Hardin, all the orbs were gathered and the Fire Emblem was completed and restored as the Shield of Seals. Marth was then approached by the four missing clerics, the but the Shield's power dispelled the magic surrounding the four and revealed them to have been Gharnef's priests that had an illusion cast over them to deceive Marth. Gotoh then arrived, and realizing that Gharnef was attempting to revive Medeus once more, they continue their battle by trying to locate Medeus and Gharnef.
He then heads to Dolhr where Gharnef lurks. En route he visited a village and encountered a severely wounded Michalis, who gave Starlight to Marth for use against Gharnef once more. In the Dragon's Table, Marth's army fought Gharnef once more and killed him, allowing Marth to finally reclaim Falchion from him, and so the group makes their way to the final room where Medeus was. However, when they finally reach the next chamber, they find out that Elice, Nyna, Maria, and Lena were all hypnotized and surrounding Medeus to be consumed for his complete revival, along with him being guarded by Earth Dragons. Jagen realizes that if they cannot free them from Medeus' control, then they would have no choice but to kill them to get to Medeus, which horrifies Marth, declaring that there has to be another way.
Determined to rescue the clerics, Marth had some of his allies work to awaken them while the Shield of Seals emits a power that forces the Earth Dragons to retreat. Through the efforts of Merric, Sirius, Minerva, and Julian, the princesses were all freed from Medeus' control and thus clearing the way for him to kill Medeus with the Falchion for the second and final time.
Afterwards, as most of Archanea's noble houses were left in ruins, almost all of its surviving rulers ceded sovereignty over their territories to Marth himself, and so Marth united the continent as the United Kingdom of Archanea, serving as its first king while crowned as the fifth king of Altea with Caeda as his wife, and spends his time rebuilding Archanea with her in Pales, the capital of Archanea. Under Marth's reign, the continent experienced a golden era of peace and its wounds began to heal.
AwakeningEdit
Two thousand years later in the era of Fire Emblem Awakening, Marth's tale has passed into legend and he is revered as the "Hero-King" and a legendary ruler. The royal house of the Halidom of Ylisse, one of several post-unified Archanean nations, are his descendants and continue to wield both Falchion and the Shield of Seals, which they now call the Fire Emblem. When Marth's descendant Lucina travelled back in time to try and prevent the resurrection of the fell dragon Grima, she cloaked her true identity as Chrom's daughter by adopting the name of Marth as her own.
Personality
Edit
Marth is a kindhearted yet incredibly idealistic leader and has subtle pacifist morals. Said morals are a result of him experiencing loss directly, as his sister has been kidnapped twice and parents killed. His idealism takes a toll on him, however, as he melancholically visits the graves of those whom have been killed as seen in New Mystery of the Emblem. He has been shown to be overly trusting as he has been betrayed and almost killed by two comrades. Regardless, his faith in his people do have its benefits, as recruitment of an assortment of people from different backgrounds directly contributed to his success in both wars. Marth has also been shown to be extremely awkward as reflected in his supports. In addition, Marth often requires consistent reassurance in his decisions, of which can be seen as both a flaw and a strength.
Base Stats
Edit
Growth Rates
Edit
Base Stats
Edit
Growth Rates
Edit
Base Stats
Edit
Growth Rates
Edit
Growth Rates
Edit
In Mystery of the Emblem and its remake, Marth will have high HP, Strength, Speed, and Luck, but will end up with weak defenses; but his high HP and avoid should make up for it. He will usually do a lot of damage and will almost always strike twice. He is somewhat described as a glass cannon and leveling him up should be easy. However, his biggest drawback is that he cannot promote. This takes out a needed one time boost to all of his stats, which would fix his lack of resistance and defense, as well as taking out an additional 10 levels that he could get. Marth has received a significant boost in New Mystery of the Emblem, with slightly higher growth rates. The Shield of Seals also give him an additional +2 points to all stats. If he has maxed out any of them, these bonuses will also stack.
Base Stats
Edit
Growth Rates
Edit
Prince Marth (SpotPass & DLC)
For the Aptitude skill, add +20% to all growth rates
Max Stat Modifiers
Edit
Base Stats
Edit
Growth Rates
Edit
Max Stat Modifiers
Edit
Description
Edit
Altean Prince

Prince of Altea who fights for his homeland and deeply values his friends. Appears in Fire Emblem: Mystery of the Emblem.
Base Stats
Edit
As a playable unit
Edit
Rarity:
As an Enemy
Edit
Chapter 1-1 -Mystery Trial
Edit
Rarity:
Ad blocker interference detected!
Wikia is a free-to-use site that makes money from advertising. We have a modified experience for viewers using ad blockers

Wikia is not accessible if you've made further modifications. Remove the custom ad blocker rule(s) and the page will load as expected.