"I am a prince before I am a son or brother."
—Marth after liberating his home in Chapter 17 of Shadow Dragon.
Marth (マルス Marusu, Mars in the anime) is a character from the Fire Emblem series of video games. He is the central protagonist and Lord-class character of the original game, Fire Emblem: Shadow Dragon and the Blade of Light, and its sequel Fire Emblem: Mystery of the Emblem, as well as their respective remakes. Although Marth's Fire Emblem titles were released only in Japan at the time, he has acquired more widespread international attention through his appearance in the Nintendo brawler, Super Smash Bros. Melee. The appearance of Marth and Roy sparked a greater level of Western interest in the Fire Emblem series, and it was in part because of this that Nintendo began releasing the games internationally beginning with Fire Emblem: The Blazing Blade, the seventh title in the series. Due to his various appearances in Fire Emblem and his presence in Super Smash Bros and other crossovers, Marth is often looked at as the face of the series.
Shadow DragonEdit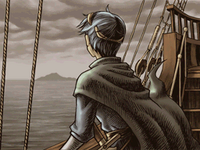 Hundreds of years had passed since Medeus was slain in Archanea. Once Medeus is resurrected, he rebuilds his land of Dolhr, ready to invade Archanea once again. After an attack from Dolhr, Marth is forced into exile in the island nation of Talys and home of his childhood friend, the princess Caeda. His father, Cornelius, is killed due to a betrayal by his ally Jiol, the King of Gra; the sword Falchion is taken by Gharnef, and Marth's elder sister Elice is taken hostage. With the help of the Altean knight Jagen, Caeda, Aurelian commander Hardin, Red Dragon Princess Minerva, and others, Marth embarks on a quest to defeat Medeus, reclaim the kingdom of Altea, and rescue his sister.
Marth meets Nyna, the princess of Archanea — the most prominent kingdom — who gives him her country's national treasure, the Fire Emblem. After Gharnef is defeated by one of Marth's allies, Marth obtains Falchion which he uses to defeat Medeus. Afterwards, he proposes to Caeda.
New Mystery of the EmblemEdit
After the defeat of Medeus, Marth spent his days peacefully in Altea. During this time, Caeda becomes his fiancee, and the two are soon to be married. However, Marth is ordered by now Emperor Hardin to put down a rebellion in Grust, and due to Archanea maintaining some level control over other countries, Marth is forced to go. Upon arrival, Marth learns of General Lang's abuses when talking to Lorenz, and who dies shortly afterward, after entrusting Jubelo and Yuliya, the prince and princess of Grust respectively, to Marth. However, Lang takes them, and Marth then is forced to go to Macedon, where he meets Linde, a mage of Archanea, who had been keeping the Fire Emblem safe from harm.
Marth eventually opposes Lang, attempting to get Hardin's support in removing the corrupt general, but is surprised that Hardin decides to support Lang and declares Marth a traitor, soon after he learns from Caeda that the united armies of Archanea, Aurelis, and Gra having conquered Altea and captured Elice in Marth's absence. After freeing Grust, Marth discovers that several gems are needed for the Fire Emblem to regain its true power. Marth retrieves most of the gems. He eventually joins forces with Sheema, the Princess of Gra, which had fallen to ruin after betraying Altea.
After reaching Archanea Palace, Marth defeats Hardin, obtaining the last gem. The gems are placed on the Fire Emblem, which becomes the Shield of Seals. Afterward, Marth discovers that Hardin was not really evil, but was possessed by the evil priest Gharnef himself through the Darksphere. He then heads to Dolhr where Gharnef lurks. After Gharnef is defeated, all that remains is the new reborn Medeus, guarded by Earth Dragons and possessed clerics. The Shield of Seals emits a power that forces the Earth Dragons to retreat, giving Marth's army the opportunity to save the clerics and for Marth to defeat Medeus once and for all with a slash of Falchion. Afterword, Marth takes Caeda as his wife, is declared Emperor of the entire continent of Archanea, and spends his time rebuilding Archanea with her in Pales, the capital of Archanea.
AwakeningEdit
Marth appears as an Einherjar, phantom warriors of ancient heroes created by magical cards. Old Hubba summons Prince Marth, alongside Ike and Alm, to help Chrom take care of a group of out of control Einherjar. After Chrom's success, Old Hubba asks for further assistance in the future, since there were still more out of control Einherjar, and, to thank him, sends Prince Marth to join Chrom's party. While talking with Chrom's tactician, Marth mentions one day showing them his homeland, apparently not realizing his true nature. In spite of being referenced as Prince Marth, he shows knowledge of a certain warrior from the War of Heroes and acknowledges his Hero-King title.
Other versions of Marth
Edit
An aggressive Prince Marth, who had a different appearance from the first one, as noted by Chrom, is an enemy in later battles in Hubba's Outrealm. Another Prince Marth is a member of the Archanean army fighting in an Outrealm that resembles Grannvale. When he is about to be sealed away, he notices the justice in Chrom's actions. A third Prince Marth appears in an Outrealm that resembles an abandoned fortress in Tellius as a member of the united forces of light under Sigurd.
King Marth, leading the Archanean army, waged an endless war against Seliph, King of Jugdral, in an Outrealm that resembled Grannvale. Convinced that Chrom's party was summoned to help Archanea's troops, King Marth chooses to trust them. With their help, the Archanean army defeats Jugdral's forces. However, Chrom's army soon returns under the guise of summoned troops once again, but this time fighting against the united Archanean and Valentian Army leading to their defeat. However, in the third battle, where Chrom's group finally would be able to seal the Einherjar, King Marth makes an alliance with Jugdral's forces. They considered the troops from outside of that Outrealm a bigger menace to peace. In spite of that, they're all eventually defeated and sealed.
Marth traveled through a world where people fought for the excitation of combat and to better themselves, rather than for conquest. He heard a voice calling for him, suddenly finding himself in a Castle in the Astral Realm. He was helped by the people there and afterwards introduced himself and thanked the lord of the castle before departing curious to see that new world. Later, Marth returns to the castle and shows interest in the lord's abilities, expressing his wish to face and bond with the avatar in combat.
Eventually, leading a small party of Illusions, phantom troops that resemble Marth's old companions, Marth faced the Avatar in combat. In spite of being defeated, Marth enjoyed the battle and expressed his admiration for the Avatar and their party. He decided to join them in their adventure, leaving his own travels for later.
Personality
Edit
Marth is a kindhearted yet incredibly idealistic leader and has subtle pacifist morals. Said morals are a result of him experiencing loss directly, as his sister has been kidnapped twice and parents killed. His idealism takes a toll on him, however, as he melancholically visits the graves of those whom have been killed as seen in New Mystery. He has been shown to be overly trusting as he has been betrayed and almost killed by two comrades. Regardless, his faith in his people do have its benefits, as recruitment of an assortment of people from different backgrounds directly contributed to his success in both wars. Marth has also been shown to be extremely awkward as reflected in his supports. In addition, Marth often requires consistent reassurance in his decisions, of which can be seen as both a flaw and a strength.
Base Stats
Edit
Growth Rates
Edit
Base Stats
Edit
Growth Rates
Edit
Base Stats
Edit
Growth Rates
Edit
Growth Rates
Edit
In Mystery of the Emblem and its remake, Marth will have high HP, Strength, Speed, and Luck, but will end up with weak defenses; but his high HP and avoid should make up for it. He will usually do a lot of damage and will almost always strike twice. He is somewhat described as a glass cannon and leveling him up should be easy. However, his biggest drawback is that he cannot promote. This takes out a needed one time boost to all of his stats, which would fix his lack of resistance and defense, as well as taking out an additional 10 levels that he could get. Marth has received a significant boost in New Mystery of the Emblem, with slightly higher growth rates. The Shield of Seals also give him an additional +2 points to all stats. If he has maxed out any of them, these bonuses will also stack.
Base Stats
Edit
Growth Rates
Edit
Prince Marth (SpotPass & DLC)
For the Aptitude skill, add +20% to all growth rates
Max Stat Modifiers
Edit
Base Stats
Edit
Growth Rates
Edit
Max Stat Modifiers
Edit
Description
Edit
Altean Prince

Prince of Altea who fights for his homeland and deeply values his friends. Appears in Fire Emblem: Mystery of the Emblem.
Base Stats
Edit
As a playable unit
Edit
Rarity:
As an Enemy
Edit
Chapter 1-1 -Mystery Trial
Edit
Rarity:
Ad blocker interference detected!
Wikia is a free-to-use site that makes money from advertising. We have a modified experience for viewers using ad blockers

Wikia is not accessible if you've made further modifications. Remove the custom ad blocker rule(s) and the page will load as expected.