Marth Embarks
Talk

0
3,752pages on
this wiki
Marth Embarks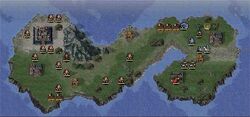 "Marth, prince of Altea, was lucky. Though Doluna took from him his kingdom and all but a handful of knights, they could not take his life. Marth lived, and made it to the eastern isle of Talys. Talys was a small border kingdom, with no grand order of knights to boast of, but its king selflessly gave Marth use of the isle's eastern fortress. And as he saw the boy shake with anger and grief, he also gave wise counsel: "Prince Marth," he said, "I do not doubt you love your sister something great. But you must be patient...time is on your side. If you stay here, and grow stronger, a time will come when you can help her." So Marth stayed in Talys, protected by its kind people, and the years went by..."
—Opening Narration
Marth Embarks is Chapter 1 of Fire Emblem: Shadow Dragon.
This is the first level of the original game. When you start the level, you will gain Shiida. Wrys can be recruited by visiting the village to the west. 10,000 gold can be earned at the eastern village.
Enemy Reinforcements
Edit
None.